(source)

Herbert Thacker Herr

(19 Mar 1876 - 19 Dec 1933)




Herbert Thacker Herr
Biography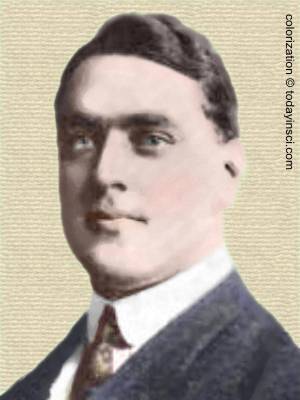 Herbert Thacker Herr1 began his mechanical engineering career, as an apprentice machinist with the Chicago & Northwestern Railroad. He took the admission examination to Yale University in June 1895, and graduated from the Sheffield Scientific School at Yale with a Ph.B. in 1899.
In the following six years, Herr gained experience as a machinist and draftsman with the Denver & Rio Grande Railroad, and in positions at several other railroads. During this time, he became aware of the mechanical aspects the train machinery and addressed some of their problems.
In 1904, he contributed two inventions to improve their operation. He designed a braking device able to control two or more locomotives hauling a train. His second device adjusted the braking power on a railroad car depending on the weight of the car.
By 1906, aged 30, Herr was perhaps the youngest to be become the general superintendent of a railroad company, when he was appointed by the Denver & Rio Grande Railroad. A short time later, he rose to the position of vice-president and general manager of the Duquesne Mining & Reduction Company, Arizona.
His inventive skills designing train-control equipment were recognized by George Westinghouse, who recruited him in 1908 to serve as general manager of the Westinghouse Machine Company. In this productive phase of his mechanical engineering career, Herr produced further significant inventions, including 17 patents for the Westinghouse Air Brake Company.
Herr contibuted designs for oil engine to simplify their design, provide automatic starting and improve control. For two-cycle engines, he created an easy method to reverse their operation, and for four-cycle engines, he contributed the application of rotary valves.
As his field expanded to include turbines, Herr enabled design simplifications and increased capacity. He also refined the processes in their manufacturing, a notable example being improvements to the attachment of the turbine blades.
Further expanding the range of his work, by 1916, he invented ship control-mechanisms giving the capability of remote-control bewteen the bridge of a ship and its main engines. During World War I, the U.S. Navy applied a modified version of this control in the operation of several of its major ships.
After George Westinghouse had died in Mar1914, Herr's career grew with Westinghouse's company. Herr was eventually elected a vice-president and general manager of the Westinghouse Electric and Manufacturing Co.,
Herr was also director of the Pittsburgh Meter Company, vice president and director of the Westinghouse Air Spring Company, and Westinghouse Gear & Dynamometer Company, and the Rodman Chemical Company.2
From 1920-30, Herr ran the Westinghouse South Philadelphia works. His death came three years later, in 1933, after an illnes of about five months, due to a sarcoma of the lung.
1. American Council of Learned Societies, Dictionary of American Biography, Supplements 1-2: To 1940 (1944-1958).
2. George Worthington (ed.), Electrical Review and Western Electrician (30 Jun 1917), 1112-13. (source)
See also:
19 Mar - short biography, births, deaths and events on date of Herr's birth.