(source)

Edward H. Johnson

(4 Jan 1846 - 9 Sep 1917)




The First Electric Christmas Tree Lights
from the Detroit Post and Tribune (1882)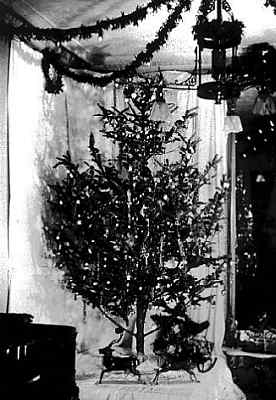 Photo taken on 25 Dec 1882 showing Edward H. Johnson's Christmas tree with strings of electric lamps.
(source)
[Background: The long-standing tradition of using candles on a Christmas tree was both sentimentally popular but also dangerous as many house fires resulted. Thus, the use of a string of light bulbs to illuminate a Christmas tree had an important side benefit of increasing safety. Yet the idea was captivating, not because of safety, but because of the novelty of electric light when Thomas Edison's business associate, Edward H. Johnson, in 1882 decorated a Christmas tree in his own home with small electric light bulbs. When Johnson first used them on 22 Dec 1882, it was just three years after Edison had invented a practical way to manufacture them.

Johnson's glowing Christmas tree was visible through his home's windows, and caused a stream of people to pass by his house, intrigued by this new use of electricity. It was described in an article by William Augustus Croffut, a Michigan newspaper reporter.]
"Last evening I walked over beyond Fifth Avenue and called at the residence of Edward H. Johnson, vice-president of Edison's electric company. There, at the rear of the beautiful parlors, was a large Christmas tree, presenting a most picturesque and uncanny aspect. It was brilliantly lighted with many colored globes about as large as an English walnut and was turning some six times a minute on a little pine box. There were eighty lights in all encased in these dainty glass eggs, and about equally divided between white, red and blue. As the tree turned, the colors alternated, all the lamps going out and being relit at every revolution. The result was a continuous twinkling of dancing colors, red, white and blue, all evening.
I need not tell you that the scintillating evergreen was a pretty sight - one can hardly imagine anything prettier. The ceiling was crossed obliquely with two wires on which hung 28 more of the tiny lights; and all the lights and the fantastic tree itself with its starry fruit were kept going by the slight electric current brought from the main office on a filmy wire. The tree was kept revolving by a little hidden crank below the floor which was turned by electricity. It was a superb exhibition."

Photo (not in original article) from source shown above. Text from Detroit Post and Tribune (1882) newspaper, as reprinted in Ace Collins, Stories Behind the Great Traditions of Christmas (2003), 120.