(source)

Robert Wood Johnson

(15 Feb 1845 - 7 Feb 1910)




Robert Wood Johnson
From
Western Druggist

(1893)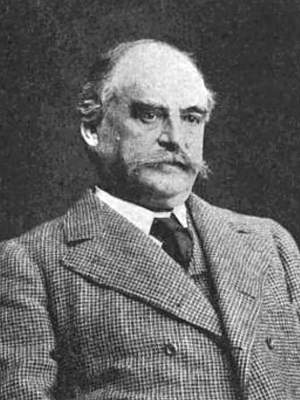 Robert Wood Johnson
From obituary, 'Robert Wood Johnson',
Practical Druggist and Pharmaceutical Review of Reviews
(Mar 1910), 352.
(source)
As a workman is often said to "be known by his chips," so the subject of this sketch is exceedingly well known by his handiwork; but only a small portion of our readers have had the pleasure of meeting him face to face as we now present him.
Mr. Johnson, president of the house of Johnson & Johnson, is about 47 years of age, a native of Carbondale, Penn. Early in life he entered as an apothecaries' apprentice, and after serving his time engaged in the wholesale drug and brokerage business in New York. In 1874 he organized the firm of Seabury & Johnson, and started out to make plasters in an India rubber combination. Many older druggists tell how they saw him from day to day in an old loft, bare-armed and clothed in jumpers, struggling with whitewash brush and a pail of mush spreading the first "Benzine" plasters. He succeeded in producing all the plasters of the Pharmacopeia with a rubber base, with the effect of relegating all other forms out of use and creating a new era in plaster-making and uses.
Perceiving still greater possibilities, in 1887 he organized the well-known house of Johnson & Johnson, bringing into it his successful experience and infusing it with the energy, enterprise, and thrift of his previous success, conceiving that so simple a thing as a plaster might be made to become a most popular and effective form of medication.
New bases were devised with which to combine drugs already in use and new drugs combined were made in plaster form, as an example: He aimed at and succeeded in making a beladonna plaster that would give the exact effects of beladonna; a blister plaster (Canthos) that would raise a blister on anybody in half an hour; a mustard plaster useful and ready for action in Africa or Greenland, as well as all sorts of plasters that would not only act as a covering but would give the same effect as that of the drug in them, thus making Johnson & Johnson's plasters of distinctive value to the medical world.
In the attempts made to engraft the ideas of Lister into the practice of surgery, he foresaw the difficulties in the adoption by the general practitioner and surgeon of such a complicated method; that to make it popular it must be so that the doctor at the country cross-roads should be as completely fitted for advanced surgery as the surgeon at Bellevue; that, to be of service to any except the best hospitals, they would have to be put into shape so as to be distributed by the drug trade without contamination or change; that they must reach the surgeon at the most remote point in any climate in perfect condition, and so simple that any tyro could secure and use perfect antiseptic dressings.
Grasping the wonderful advances of antiseptic methods, be put the energy of his organization at work to improve old lines of surgical dressings, to make new lines to meet advanced surgical practice. While the surgical profession were still in doubt as to accepting either the theory or practice of antisepticism, he called to his aid the best surgeons of the land, to exemplify and illustrate to their fellows the "Method of Antiseptic Wound Treatment," sending forth thousands of what was really the first practical book on this subject.
He built buildings that were clean and could be kept clean, drilled operatives in aseptic cleanliness, made dressings in accordance with the rules of aseptic and antiseptic surgery, keeping pace with and often in advance of the world's best surgeons; put them up in complete and handy packages until Linton moist dressings, absorbent cotton in new forms, sterilized ligatures, sterilized cotton, surgeons' dressings of every kind and name revolutionized surgery and made antiseptic and aseptic practice possible.
To-day the organization he leads sends out yearly a million and a half of books written by the best surgical talent, keeping the doctors posted on the latest and best thing- in surgical dressings. The printers get $40,000 a year, and the postage amounts to over $20,000. Altogether something like $400,000 a year is expended in drawing trade to the local druggist for Johnson & Johnson's productions.
Mr. Johnson with his family resides at New Brunswick, N. J., where the laboratories are situated. At this point he may be found, making full working hours every day, the moving spirit of a business that reaches everywhere on the globe, full of energy and resources, with a wonderful capacity for quickly grasping a situation and carrying it out to the remotest detail. He has excellent judgment and foresight, and a capacity for engaging actively in all departments of the complex organization he leads.
Mr. Johnson, though of very broad mind and well versed in affairs of life and business, enters but little into public or social affairs; and, though exceedingly averse to praise, it is certain that for great improvements in the line of plasters, improvements in external forms of medication, improvement in surgeons' dressings, medicine, pharmacy, and surgery accord him the greatest credit.

Photo (not in original text) added from source shown above. From
Western Druggist
(Jun 1893), Vol. 15, 256.
(source)
See also:
15 Feb - short biography, births, deaths and events on date of Johnson's birth.