(source)

Charles A. Lindbergh

(4 Feb 1902 - 26 Aug 1974)




Charles A. Lindbergh
"In wilderness I sense the miracle of life"
Illustrated Quote - Large (800 x 400 px)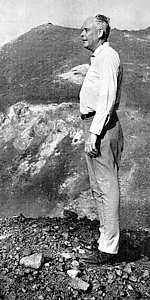 Charles Lindbergh, at 65, stands on the volcano Krakatau, Indonesia.
(source)
Forty years after his flight across the Atlantic, at age 65, Charles Lindbergh wrote 'The Wisdom of Wilderness' for Life magazine (22 Dec 1967). It was the lead article for a special double issue in 1967, with the theme 'The Wild World', which was printed on the cover. Lindbergh was still an aviation consultant, but had been devoting much of his time to conservation. As a director of the World Wildlife Fund, he worked to set aside wild land areas all over the world and to protect endangered species, particularly the blue whale.
He opened the article, recalling how his
"interest in wildness roots back to early boyhood and stories my father told me about Minnesota's frontier when he was my age. Woods were full of deer, he said, the sky often black with duck; every lake and river held its fish. Chippewa Indians built their tepees near his home. The frontier was a wonderful place for a boy to grow up. He wished I could have been there with him."
As a boy, Charles Lindbergh learned to drive at the age of 11, and was flying by age 20. Aviation became his profession, in a world so different—within one generation—from his father's frontier days. Yes,virgin forest had been cut, and wild duck and fish were scarce. But Lindbergh recognized scientific progress brought compensations with innovations and technology:
"My own lifetime spans the Wright Brothers' Kitty Hawk flight and manned-satellite orbiting."
Yet, he yearned for a world less overwhelmed by technology, and he had qualms about its consequences:
"be a reservoir for power. Obviously the scientific progress so alluring to me is destroying qualities of greater worth. … with wilderness outside. Had the choice confronted me, I would not have traded nature's miracles of life for all of science's toys. Was not my earth's surface more important than increasing the speed of transport and visiting the moon and Mars? If I were entering adulthood now instead of in the environment of 50 years ago, I would choose a career that kept me in contact with nature more than science. … From the dynamics of an atom, nature produces the tranquillity of a flower, the joy of a porpoise, the intellect of man—the miracle of life.
In wildness I sense the miracle of life, and beside it our scientific accomplishments fade to trivia.
The construction of an analogue computer or a supersonic airplane is simple when compared to the mixture of space and evolutionary eons represented by a cell. In primitive rather than in civilized surroundings I grow aware of man's evolving status, as though I were suddenly released from a hypnotic state. Life itself becomes the standard of all judgment. How could I have overlooked, even momentarily, such an obvious fact?"
Text by Webmaster, with quotations and b/w image from Charles Lindbergh, 'The Wisdom of Wilderness',
Life
(22 Dec 1967),
63
, No. 25, 8-10.
(source)