(source)

Guglielmo Marconi

(25 Apr 1874 - 20 Jul 1937)




[In this excerpt from the beginning of a longer article, Marconi tells in his own words about the sending of the first paid Marconigrams (as they were later known). He had conducted prior tests. The transmitting and receiving stations were about 19 miles (29 km) apart.]
THE PRACTICABILITY OF WIRELESS TELEGRAPHY.
by Guglielmo Marconi
from The Fortnightly (1902)
[p.931] THE first paid message by etheric wave telegraphy was sent by Lord Kelvin on June 3, 1898. The circumstances were these: Lord and Lady Kelvin and Lord Tennyson visited my Alum Bay station in the Isle of Wight. I explained the working of the apparatus and showed how messages were sent and received. Lord Kelvin was so much pleased with what he saw that he desired to send telegrams to various friends on the mainland of England, insisting first that he be permitted to pay for their transmission to Bournemouth at the rate of a shilling royalty per message in order to show his appreciation of the system and to illustrate its immediate availability for commercial use. Messages were sent by Lord Kelvin to Dr. MacLean, his chief assistant in the physical laboratory of the University of Glasgow, to Sir George Stokes at Cambridge, and to Lord Rayleigh and Sir William Preece in London.
He has given his permission to reprint one of the messages—that to Sir George Stokes :
" Stokes, Lensfield Cottage, Cambridge. This is sent commercially paid at Alum Bay for transmission through ether, ls. to Bournemouth, and thence by postal telegraph, 15d. to Cambridge—Kelvin."
Lord Tennyson's message was to his nephew at Eton, and was as follows :—
"Sending you message by Marconi's ether telegraph, Alum Bay to Bournemouth, paid commercially thence by wire; very sorry not to hear you speak your Thackeray to-morrow.—Tennyson."
Commenting on these messages, the Electrical Review of June, 17, 1898, says :—
" With the achievement of these striking results, one ought not to wait long before a practical application is made of the wireless telegraph."
The successes of my various trials led me to desire some opportunity of testing the practical application of my system on a more extended scale. It is difficult with a new invention such as mine to convince the public, even after the most successful trials, that here is something that should and must be adopted. In a sense it must create a new field for itself, as well as threaten established rivals in old fields. Not only was I compelled to construct a satisfactory apparatus for telegraphing wirelessly, but I had to show by actual [p.932] tests some of the ways in which it could be utilised—all of which required much time and money. ...
[The following month, on Jul 20 and Jul 22, the events of the Kingstown Regatta in Dublin were reported by wireless telegraphy for the Dublin Daily Express from the steamer Flying Huntress, equipped with the Marconi system. Could Marconi have even imagined then how extensively the world would become connected by radio within a few decades?
In the article, the reference to "1s." means one shilling. In those days 20 shillings made one pound (£1). A shilling was divided into 12 pennies, and the reference above to "15d." means 15 pence.—Webmaster]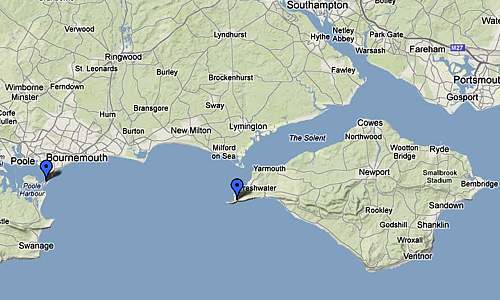 Marconi's Bournemouth and Alum Bay Stations (approximate locations).
Map, not in original text, added from Google maps. Text excerpted from
The Fortnightly
(1902),
77
, 931-932.
(source)
[The following paragraph is an excerpt from the Ninth Kelvin Lecture, 'Kelvin as a Teacher', given by Professor Magnus Maclean, who was Lord Kelvin's official assistant. According to his statement, the first of the paid Marconigrams was sent to him.]
On the 3rd June, 1898, Lord Kelvin visited the Needles Station and sent from there to me the first paid marconigram, as follows: "Maclean, Physical Laboratory, University, Glasgow. Tell Blyth this it transmitted commercially through ether from Alum Bay to Bournemouth and by postal telegraph thence to Glasgow. Kelvin."
From lecture by Magnus Maclean, delivered before the Institution (7 Feb 1918), 'The Ninth Kelvin Lecture: Kelvin as a Teacher' published in
The Journal of the Institution of Electrical Engineers
(Mar 1918),
56
, No. 272, 173.
(source)
From lecture by Magnus Maclean, delivered before the Institution (7 Feb 1918), 'The Ninth Kelvin Lecture: Kelvin as a Teacher' published in The Journal of the Institution of Electrical Engineers (Mar 1918), 56, No. 272, 173.