(source)

Othniel Marsh

(29 Oct 1831 - 18 Mar 1899)




Othniel Marsh
OBITUARY
from The Auk: Quarterly Journal of Ornithology (1899)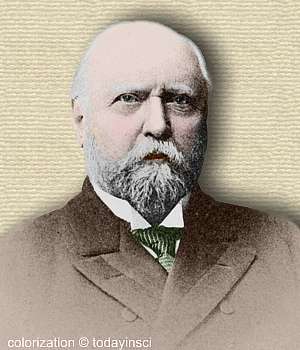 PROFESSOR OTHNIEL CHARLES MARSH, of Yale University, died at New Haven, March 18, in the 68th year of his age.
He was born at Lockport, New York, in 1831, and was graduated at Yale in 1860. He subsequently studied several years under leading specialists in Europe, returning to New Haven in 1866, where he has since occupied the chair of Paleontology.
He has long been recognized throughout the world as one of the leading authorities in vertebrate paleontology. His explorations in various parts of the West for fossil vertebrates began in 1868, and in subsequent years he amassed the immense collections which have been so long famous. The results of his investigations have been published in a long series of papers and memoirs, numbering nearly three hundred titles, covering a period of more than twenty-five years.
His unrivalled collections of fossils, as yet only partly worked up, he presented to Yale University with a considerable endowment for carrying on and publishing the results of further investigation of this great mass of material.
Professor Marsh is well known to ornithologists for his numerous publications on fossil North American birds, including his great quarto memoir, "Odontornithes*: a Monograph of the Extinct Toothed Birds of North America," published in 1880. Probably five-sixths of the known extinct South American birds have been described by Professor Marsh.
His scientific work brought him many honors both at home and abroad. In 1878 he was chosen President of the American Association for the Advancement of Science, and from 1883 to 1896 he was President of the National Academy of Sciences.
[*Odontornithes are a group of Mesozoic birds having the jaws armed with teeth, as in most other vertebrates. They have been divided into three orders: Odontolcae, Odontotormae, and Saururae.]
Text from American Ornithologists' Union, Nuttall Ornithological Club,
The Auk: Quarterly Journal of Ornithology
(1899),
16
, No.2, 211.
(source)