(source)

Hudson Maxim

(3 Feb 1853 - 6 May 1927)




The Dangers of Smoking
A Reminiscence by Hudson Maxim
(1924)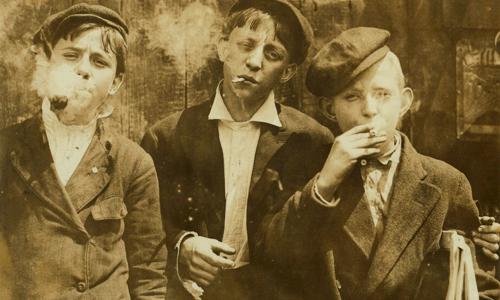 Three newsies boys smoking at Skeeter's Branch, St. Louis, Missouri (9 May 1910).
Webmaster guesses ages 8-12. Photo by Lewis Wickes Hine (1874-1940), glass negative, Library of Congress.
(source)
[p.233] WHEN I was seventeen years old, going on eighteen, I went by boat from New York, where I'd been working for Hiram, to Portland, Maine; and one of my fellow voyagers was a youth of about my age who was constantly smoking a briar pipe. I was greatly prejudiced against the use of tobacco, and I got after the fellow and talked to him so much, and so seriously and convincingly, about the injurious effects of smoking, that he finally threw the pipe overboard and said he never would smoke again.
My father believed tobacco to be unnecessary and harmful, and I've always felt as he did about it. He never used it, and my grandfather never used it; but my aunt Eliza smoked a pipe—an old black pipe. I suppose that is the reason why her life was so short. Otherwise she might have lived to a good old age. As it was, she only lived to be ninety-eight.
When I was thirty-seven years old, I attended a dinner in London at the Army and Navy Club. After dinner, the diners went upstairs into a smoking room, where every man but me smoked. I had to sit in that smoking room—there was no escape—and because I was a non-smoker I was made ill by the dense tobacco smoke in the air. I didn't recover from the effects for more than three weeks, and my complexion wore a greenish hue for quite a period after that.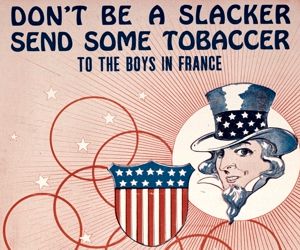 Sheet music cover of "Don't Be a Slacker, Send Some Tobaccer (To The Boys in France)" (1918)
from Library of Congress collection
(source)
I concluded that if I was going to live among modern men I must make myself less sensitive to the nicotine fumes. So I took up smoking, and smoked just a little in order to immunize myself. The result was that I got so I could stand considerable tobacco smoke without getting sick, but never as much as most folks can stand. I continued to smoke a little, hit or miss, until about two years ago. Then I quit, because I made up my [p.234] mind that it was bad for me, and deadened my alertness, and made me feel heavier on my feet.
Cigars, pipes, and quids are all bad enough, but worse still are cigarettes. I look on the increased use of tobacco in the form of cigarettes as perhaps the greatest single menace to the integrity of the race. Serious injury was done our soldiers in the World War by the cigarettes which our hyper-sentimentality inflicted on them. The permanent effects of cigarette poison are worse than those of the poison gases. If those who fumigated our soldiers with nicotine did it merely for the comfort of the soldiers, regardless of the injury they inflicted, it would have been just as rational to send them opium to smoke, or to send them whisky or absinthe to drink; or, most potent of all, the narcotic leaves of the famous khat plant of the Arabs, which one only needs to chew to keep him in happy delirium until absolutely worn out and exhausted with ecstatic delight. I wrote a booklet on the evil effects of the cigarette, and more than a million copies of it were distributed on the battle-front in France. About the same time, the New York World was raising money to send hundreds of tons of cigarettes to our soldiers.
Depression and nervousness follow cigarette-smoking as a re-action. They make the victim crave some balm or tonic and lead him to consume the drug in ever-increasing quantities. This progressive use of the cigarette is especially marked with boys in the period of rapid growth. The wreath of cigarette smoke which curls about the head of the growing lad holds his brain in an iron grip which prevents his mind from developing, just as surely as the iron shoe does the foot of the Chinese girl. If all boys could be made to know that with every breath of cigarette smoke they inhale imbecility and exhale manhood, and that the cigarette is a maker of invalids, criminals, and fools—not men—it ought to deter them some. The yellow finger-stain is an emblem of deeper degradation and enslavement than the ball and chain.
[Hiram Maxim was Hudson's brother. This excerpt shows that by 1924 (and earlier), people were becoming well aware of the effects and dangers of smoking. By the mid-1920s, cigarette smoking among women had taken hold. Attractive, young women were featured in cigarette advertisements. By the end of 1920, all but 2 states had enacted some kind of age limit on cigarette sales. Main title and footnote added by Webmaster.]
Images, not in original text, added from sources shown above. In Hudson Maxim and Clifton Johnson, Chapter XV, 'Smoking, Swearing, and Perfumery',
Hudson Maxim: Reminiscences and Comments
(1924), 234. The reminiscences are as reported by Clifton Johnson, based on extensive interviews with Hudson Maxim.
(source)