(source)

Albert Neisser

(22 Jan 1855 - 30 Jul 1916)




ALBERT NEISSER, 1855-1916
from Social Hygiene Bulletin, (1920)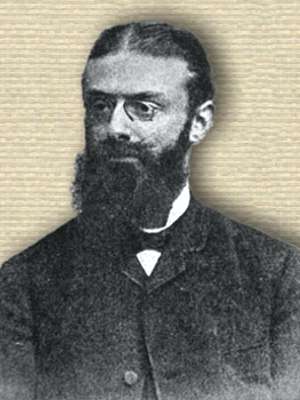 [p.9] The life of Albert Ludwig Siegmund Neisser, discoverer of the gonococcus, was in many ways a close parallel to that of Paul Ehrlich. Both were syphilologists of distinction, both were born in Silesia of Jewish descent and were educated at Breslau for medical careers, and the span of their lives covered the same number of years and almost exactly the same period. Neisser's birth and death both occurred approximately a year later than those of the great originator of salvarsan.
Neisser's name has been associated largely in the popular mind with the germ of gonorrhea, but his contributions to the study of syphilis and of leprosy are probably equally important. As a dermatologist he ranks easily among the foremost. He was the first to isolate and identify Bacillus lepræ, the causal agent of leprosy.
The work of Metchnikoff and Roux in demonstrating that the higher apes could be infected with syphilis led Neisser to make similar investigations. Early in 1905 he undertook a long and arduous expedition to Java, accompanied by his wife and two student assistants. Here he spent several months studying the conditions under which syphilis is transmitted to the lower animals, and particularly finding that the Metchnikoff experiments could be performed with equal success on the monkeys as distinct from the tailless apes. During his absence, Schaudinn's epoch-making discovery of the Treponema pallidum was announced to the world. Neisser was among the first to confirm it, by his researches in Java. The results of the Java expedition were published in a bulky volume, Report of an Investigation of Syphilis, in which he discussed the conditions of transmission, the distribution of the infection in the body tissues, the degree of infectiousness in the various stages of the disease, and problems of immunity.
These researches, upon his return to Europe, formed the basis of further studies in collaboration with his pupil Bruck, and with Wassermann, out of which grew the reaction to which the name of Wassermann is usually attached. Without Neisser's large contributions to the clinical and bacteriological observation of syphilis, it is doubtful if the Wassermann test and much of the later work on the disease could have been perfected.
But his primary association is with the gonococcus. This germ he identified when only twenty-four years old (1879), while still a student assistant, and it immediately gave him fame. He was a pioneer in the rational treatment of gonorrhea. He always insisted on the constant checking-up of treatment by microscopical examination, which is universally acknowledged by urologists to-day to be the only reliable means of determining a cure. Neisser opposed the indiscriminate. use of astringents in the treatment of the disease, and was the first to recommend protargol as a gonococcide.
Neisser was born January 22, 1855, in Schweidnitz, near Breslau, Silesia, the son of Moritz Neisser, also a distinguished physician. He studied at the universities of Erlangen and Breslau, where he obtained his medical degree in 1877, and was at once appointed assistant to Oskar Simon, head of the University Polyclinic at Breslau. In 1880 he became privatdocent in the medical faculty at Leipzig, but returned to Breslau upon Simon's death in 1882, to become assistant professor of dermatology, although only twenty-seven years of age. The confidence of his alma mater was never misplaced. He steadfastly refused all offers of promotion and profit elsewhere, and remained at Breslau until his death. Under his direction the old and primitive buildings of the Breslau University Hospital were replaced in 1892 by a modern and completely equipped plant. In 1902 he was one of the leading spirits in the organization of the Deutsche Gesellschaft zur Bekämpfung der Geschlechtskrankheiten, which to-day occupies, under the leadership of Dr. Blaschko, of Berlin, a leading place in the fight against the venereal diseases in Germany. Neisser was appointed full professor of dermatology and syphilis in 1907. Besides his Java voyage. he traveled through Scandinavia and Spain studying leprosy, and made other scientific expeditions.
[p.11] Neisser was an inspiring teacher, and from his laboratories came many distinguished pupils, including Scholtz, Marschalko, and Bruck. His published writings include over one hundred essays on leprosy, syphilis, gonorrhea, and kindred subjects. During the war he devoted much of his attention to combating venereal disease in the Germany army. He had been in bad health from a fractured thigh and kidney complications for several years previous to 1914, but refused to spare himself, and insisted upon making a trip to Brussels for a medical exhibition in the summer of 1916, from which he returned only to be overcome by death.
Text and image from
Social Hygiene Bulletin
(May 1920),
7
, No. 5, 9 & 11.
(source)
---
PROFESSOR ALBERT NEISSER, M.D.
from Boston Medical and Surgical Journal (1917)
Dr. Albert Neisser, who died on July 30, 1916, at Breslau, Germany, was born near that city in 1855, the son of a distinguished physician, Dr, Moritz Neisser. He studied medicine at the Universities of Breslau and Erlangen and received the degree of MD. in 1877 for a thesis on echinococcus disease. He immediately became attached to the Breslau University Hospital and Polyclinic for Syphilis and Diseases of the Skin, as assistant to Dr. Oskar Simon. It was here, in 1879, that he made his most famous discovery of the diplococcus which has since borne his name. Upon Simon's death in 1882, Neisser was promoted to his professorship, which he retained until his death. Though his name is chiefly associated with the gonococcus, he made notable researches in other fields, especially in dermatology, bacteriology, serology, and syphilography. In 1902 he founded the Deutsche Gesellschaft zür Bekämpfung der Geschlechtskrankheiten. In 1905 he spent several months on an expedition in Java to study the phenomena of syphilis inoculated in monkeys. It was on the basis of his researches that the details of Wassermann's reaction were developed. Dr. Neisser also traveled in Norway and Spain to study leprosy. It was during his absence from Germany that the spirocheta pallida was discovered by Schaudinn and Hoffmann, whose observations were communicated to Neisser in Java and speedily confirmed by him. Dr. Neisser was a brilliant investigator and teacher, and his death, from diabetes complicated by nephrolithiasis, removes one of the most famous and familiar of the older generation of German scientists.
Text from
Boston Medical and Surgical Journal
(6 Sep 1917),
177
, No. 10, 338, now known as the
New England Journal of Medicine
(source)
See also:
22 Jan - short biography, births, deaths and events on date of Neisser's birth.