(source)

Benjamin Outram

(1 Apr 1764 - 22 May 1805)




The "Outram Way."
from* Locomotive Firemen's Magazine (1901)
[p.255] "A day or two ago a trip was made over the 'Outram-Way,' near Ashby-de-la-Zouch and Ticknall. This plate-way was commenced in 1795, and has been in use since 1799, or for 101 years. A descendant of Mr. Outram was present, who gave some interesting details with reference to Mr. James Outram, who cast the first 'Outram plates' ever made at his foundry at Ripley [p.256] and Butterley, Derbyshire. The original plates, which in section were in the shape of the letter L, were made for the Duke of Norfolk, and were laid down at his colliery at Sheffield. But the people tore up the plates and burned the sleepers.
"James Outram then put down the plates on cast iron square boxes, but the people broke these also. So his son, Benjamin Outram, introduced the stone blocks in place of sleepers or iron boxes. The London and North-Western Company named one of its engines Outram. Mr. Benjamin Outram's son became the celebrated general Sir James Outram, his grandson is Sir Francis Outram. and his great grandson is the Rev. James Outram, vicar of Ipswich."
This brief summary, interesting as it is, omits many points of very considerable interest both to the railway world in general, and to the descendants of Mr. Outram in particular.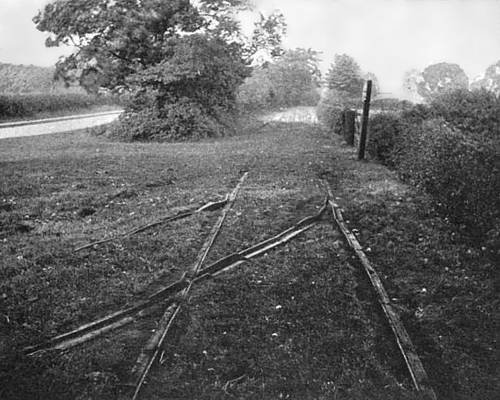 THE OUTRAM WAY
Constructed by Benjamin Outram at Ticknall, England, and opened for traffic, with horse power, in 1799, and utilized in January, 1901, nearly 102 years later.
(source)
The Mr. James Outram above mentioned as making the plate for the Duke of Norfolk, was an engineer, surveyor, and iron master. He resided at Alfreton, Derbyshire, and was born in 1733, and he was largely employed in surveying the various properties of the Duke of Norfolk.
The Duke for many years had a "wooden track" leading to his colliery at Sheffield, and when this wooden track began to wear out, the manager (Mr. Curr) "plated" the top of the wood with cast iron plates, and these were cast by James Outram at Ripley to the pattern suggested by Mr. Curr. The arrangement did not prove a satisfactory one; the flat-plates broke, and there was nothing to keep the wheels on the track. At last Mr. James Outram saw the Duke of Norfolk and advised him to pull up the whole of his wooden way, and to lay down Outram's design of cast-iron plates in the shape of a letter L. These plates to be spiked down to cross sleepers of wood in order to maintain the gauge of the line at 5 feet outside. The Duke of Norfolk agreed to the suggestion, and ordered the first Outram plates from James Outram. who made them at his foundry at Ripley in 1775. They were laid down in 1776, and the Duke traveled over his new line in a coal wagon, and afterwards had one of his private carriages fitted to the proper gauge for running on his Outram-way. Almost immediately it was found that fewer horses and drivers were wanted, so these drivers got up a riot, tore up the plates, burned the sleepers, and put an end to traffic. Then it was that James Outram designed cast-iron boxes 1 foot square and 6 inches deep, made hollow.
The plates were again laid down, this time on iron boxes. This plan worked [p.257] for a time, until the people got up another riot and smashed in the sides of the boxes.
James Outram had two sons, one became the Archdeacon of Derby, and the other, Benjamin, joined his father as an engineer.
"Young Benjamin," who was born in 1764, suggested to his father that he should "chuck up these iron boxes and have solid blocks of stone which the people could neither burn, break, nor carry off." The plan was adopted, the Outram-plates were laid down at Sheffield on stone blocks, and Outram wrote to his Grace, the Duke of Norfolk: "I have fixed the people up this time."
Benjamin Outram afterwards became a "man of mark" as engineer to the Huddersfield Canal. He executed the long tunnel under Stand Edge, in making which a number of balls of limestone, weighing from 1 ounce to over 100 pounds, were found. He communicated a paper on these, through Sir Joseph Banks, Bart., P. R. S., to the Royal Society in 1796. The Peak Forest Canal, 1794-1800. made by Outram, included six miles of plate-way. He always preferred, though his father originated, flat plates of cast iron usually 3 feet long, 4 inches wide in the tread, with an inner flange rising from about 2 inches high at the ends to 3 inches or 3½ inches at the center. These became known as Outram-ways.
Mr. Benjamin Outram, in conjunction with his father, cast in the year 1789 a large order of edge-rails designed by Mr. William Jessop and delivered the same at the canal at Loughborough, and shortly afterwards Mr. Benjamin Outram took into partnership the above-mentioned Mr. Jessop. also Mr. Wright and Mr. Beresford. And in 1793 this firm cast a further order of edge-rails for the Duke of Rutland, and they were delivered at Muston Gorse, near Belvoir Castle, 1793.
In the following year Mr. Outram secured an order of 20 miles of Outram-plate way, ten miles of which was single track, and ten miles double line or sidings.
The main portion of this line was for the Ashby Canal Company, but there were also private branches, owned by Sir Henry Harper, Mr. W. Abney (of Measham), Mr. W. Fermor, the Earl Ferrers Lount Colliery, Moira Colliery, line to potteries on Gresley Green, collieries at Swadlincote, and Lord Howe's private line to Gopsall Hall.
In July, 1796, Benjamin Outram traveled over the route between Manchester and Liverpool, with a view to laying down an Outram-way between those cities. And in 1799, a committee, composed of Manchester traders, instructed Mr. Outram to survey for a "plate-way" from Manchester to Bolton, Wigan and Sandhills to the docks at Liverpool, and this he did. On
June 4, 1800, Outram married a daughter of Dr. James Anderson, LL. D., whose well-known book, "Recreations in Agriculture," 1799-1802, advocates railways of Outram's pattern from the West India Docks through the city to the Paddington Canal, and even to Bath.
Mr. Outram, in 1799, when the Charnwood Canal was purposely cut and all the water let out, surveyed the turnpike road from Ashby-de-la-Zouch to Leicester, with a view to laying down an Outram-way.
He also surveyed and did lay down the Outram-way from Butterley and Ripley to the Derby Canal at Little Eaton.
"Outram-ways" were afterwards laid down from Mansfield to Pinxton; from Cheltenham to Gloucester; from Kilmarnock to Troon Harbor.
Mr. Outram laid down the Penydarran Outram-way in South Wales, and by the year 1811 there were about 300 miles of his system in use. He also provided the plates for the Outram-way which still runs the full length of the Kingstown breakwater.
Yet in spite of all these facts, there are people who never heard of Benjamin Outram, and ask, who was he? What did he do?
I do not know of any portrait of Mr. B. Outram. I have a good one of his brother, who was Archdeacon of Derby, but have never seen one of Benjamin or his father.
[p.255]
* A description of one of the earliest railways constructed, written by Mr. Edmund H. Outram, for the
Locomotive Firemen's Magazine
. This road was in use long before the advent of the locomotive, and yet parts of same are in use today.
A clearer copy of the photo in the article is used for the image, with its source as shown above. Text from Brotherhood of Locomotive Fireman,
Locomotive Firemen's Magazine
(1901),
30
, 155-257.
(source)
See also:
1 Apr - short biography, births, deaths and events on date of Outram's birth.
Benjamin Outram, 1764-1805: An Engineering Biography, by Reginald B. Schofield. - book suggestion.