(source)

Louis Pasteur

(27 Dec 1822 - 28 Sep 1895)




PASTEUR'S LATEST DISCOVERY
INNOCULATION FOR RABIES
from Harper's Weekly (19 Dec 1885)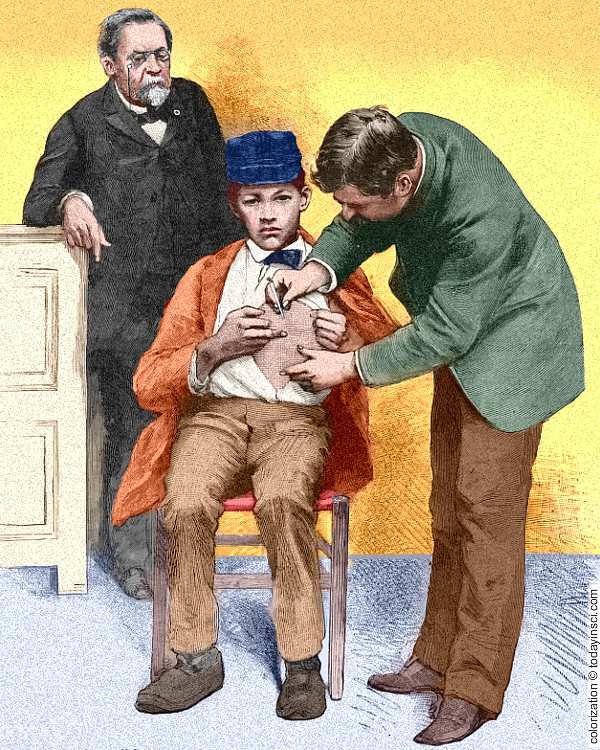 An Inoculation for Hydrophobia (1885).
(source)
Five years ago the great French chemist Louis Pasteur determined to find a remedy for hydrophobia. His discovery of a method of inoculation by which cattle and sheep were enabled to defy anthrax, or splenic fever, had led him to believe that the virus of rabies could be used in a similar way for the protection of human beings. In June, 1884, he had solved the problem so far as the inoculation of dogs was concerned, but not until October last was he able to announce that by inoculation men could be protected. That announcement was made at a meeting of the French Academy of Sciences. M. Pasteur then had two patients under treatment. He now has more than seventy.¶
His process is described as follows: A rabbit is inoculated with a fragment of spinal marrow taken from a rabid dog. In fifteen days the rabbit becomes mad and dies. A second rabbit is inoculated with it bit of spinal marrow taken from the first, and the inoculation is repeated until sixty rabbits have been used. With each successive inoculation the virus becomes stronger, and the period of incubation is shortened, until in the cane of the sixtieth rabbit, it is only seven days.¶
The chemist discovered some years ago, while experimenting with the virus of fowl cholera, that it could be weakened or attenuated only by exposure to dried air. Bits of marrow from the inoculated rabbits, graded with reference to the strength of the virus and the dates of extraction, are exposed to dried air in bottles. In this way M. Pasteur procures a supply of virus graded from a specimen that is so attenuated as to be almost powerless up to a specimen that is fresh and will cause hydrophobia in an animal in seven days. The person who has been bitten is inoculated under the skin by means of a Pravaz syringe containing sterilized liquid in which a small piece of marrow has been dissolved. Stale marrow containing virus of the greatest attenuation is first used. Virus of greater power is used in successive inoculations, until at last the most powerful is introduced. By degrees the system becomes accustomed to it, and M. Pasteur holds that after safely undergoing the last inoculation of the series the patient is proof against hydrophobia.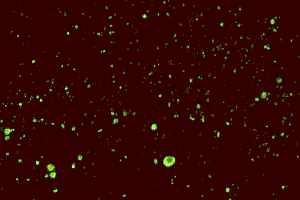 Positive direct fluorescent antibody test. Six decades after Pasteur's discovery, a fluorescent antibody technique was developed (1942) and subsequently applied to detection of rabies. Modern post-mortem rabies testing examines brain tissue slices specially prepared with fluorescein-isothiocyanate, (FITC) dye. The slides are read under a fluorescence microscope in a dark room. If the brain tissue is positive, rabies antigen will appear bright green under the fluoresecence microscope.
(source)
The first of the chemist's patients was Joseph Meister, an Alsacian. He was bitten in July last. Eminent physicians of Paris were of the opinion that he could not escape a terrible death unless he should be saved by this process. In ten days he was inoculated thirteen times, and the virus used in the thirteenth operation was of the greatest strength. It caused the death of a rabbit in seven days, but had no effect upon Meister. When the discovery was made known to the Academy of Sciences the inoculation scar was one hundred days old, but Meister was in perfect health.
The length of the period of incubation in cases of hydrophobia varies greatly, ranging from twenty-five or thirty days to one year, and cases are reported in which the disease did not appear for two or three years. In a great majority of cases, however, rabies is developed within six months. M. Pasteur is confident that his treatment will be effective if it shall be applied at any time before actual hydrophobia appears. Four children living in Algiers were bitten on August 20. That the dog was mad is proved by the fact that one of them died in October of acute hydrophobia. The three who survived reached Paris on October 20, and were inoculated. They have returned to Algiers, and are said to be in good health.¶
Owing to the varying length of the period of incubation, cautious physicians are not ready to admit at present that the assumed value of inoculation has been proved. They prefer to wait until time and numerous cases shall have furnished a greater body of evidence. Meister's wounds had been cauterized, and that operation may have protected him. A brief cable dispatch asserts that one of M. Pasteur's inoculated patients has died of hydrophobia. The facts in this case will deserve attention, although it does not yet appear that they affect the value of the chemist's process. In a few months the world will know just how much that process is worth.
Six children living in Newark, New Jersey, were bitten by a mad dog on December 2, and on December 9 four of them, accompanied by Dr. Frank S. Billings, of New York, sailed on the steam-ship Canada for Paris, where they are to become patients of Pasteur. The majority ofPasteur's patients are poor, and he accepts no fee for attendance. Sums received from those who can afford to pay become part of a fund to be used in providing food and lodging for patients who are destitute.
¶
marks where a paragraph break has been added for readability, but was not in the original text.
Sidebar image and caption, not in original text, added from source below it. Text and large image from 'Pasteur's Latest Discovery',
Harper's Weekly
(19 Dec 1885),
29
, No. 1513, 836-837. The image was reprinted from the cover of the French periodical,
L'Illustration
(11 Jul 1885), No. 2228. Image colorization © todayinsci.com.
(source)