(source)

Mark Twain

(30 Nov 1835 - 21 Apr 1910)



---
VOL. I. MARCH 22, 1883 NO. 12.
---
Mark Twain
A Biographette from Life magazine (22 Mar 1883)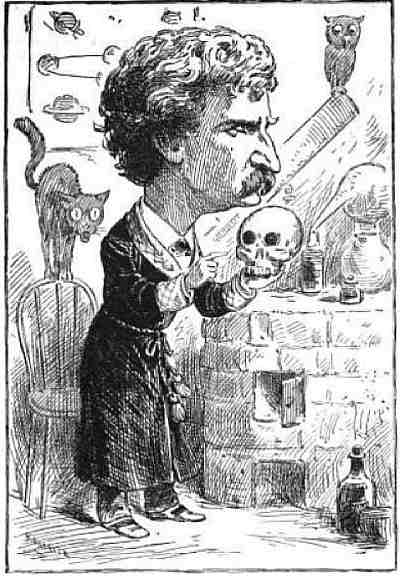 This renowned archaeologist, poet, and astronomer is a lineal descendant of the celebrated Twain who were made one flesh. He was born on Plymouth Rock, 1st April, 1728, on a remarkably cold morning, and the administratix of the camphor and red-flannel department afterward stated that he was the most remarkable baby that she had even seen. At the early age of seven, Mark—for so he was cruelly christened—was already addicted to science, and his discovery, made one year later, that a spring clothes-pin artistically applied to the continuation of a cat would create in that somnolent animal a desire for vigorous foreign travel, is still used by the aborigines of Connecticut and Massachusetts. When he was nineteen Mark went through college. He entered the front door, turpentined the rector's favourite cat, and graduated the same evening over the fence. He then started for California, Milwaukee, and other remote confines of the earth, and began those remarkable series of truthful anecdotes for which is now so justly famed. As an archaeologist, however, he has won most renown, and his collection of Pompeiian, Sanscrit, Egyptian, and early Greek jokes, now in possession of Osgood and Co, of Boston, is considered the most complete in the world. Some envious critics have claimed that most of these were painfullycarved by Mark himself, and the balance composed of heterogeneous and unrelated parts, but their seems to be no reasonable doubt that they are all genuine antiques.
Personally, Mr Twain is a remarkable well preserved man. He is short, florid, and very corpulent, laughs incessantly, and is a rapid and brilliant speaker. His essay on "Draw Poker in American Politics" is considered to be a masterly treatise on political economy, while his poem, entitled "The Frog Bowed Down by Weight Shot," will hold its place as one of the most pathetic in the language.
C.
[Note: James R. Osgood and Co. of Boston was a book publishing company. In 1882, the company published Twain's The Prince and the Pauper and The Stolen White Elephant. In the same year, Osgood traveled with Mark Twain (Samuel Clemens) on his riverboat trip collecting material for Life on the Mississippi, which Osgood published the following year. The company failed in 1885.]

From the magazine Life (22 Mar 1883), 1, No. 12, 142. This was Mark Twain's earliest appearance in the magazine. The article was one of a series called "Biographettes."