(source)

William Wrigley, Jr.

(30 Sep 1861 - 26 Jan 1932)




The Sign of the Spear
The Story of William Wrigley, Who Made Spearmint Gum Famous
by Mitchell Mannering
from National Magazine (1912)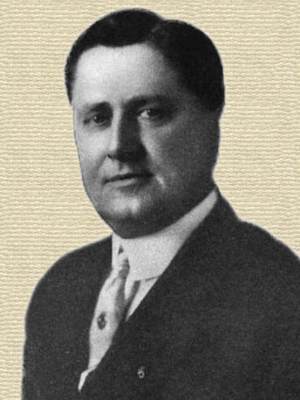 William Wrigley, Jr., The man who made Spearmint Gum famous.
[p.875] AFTER one has met William Wrigley, Jr., and talked ten minutes with him, he does not wonder at this man's phenomenal success in making Americans chew gum. Born in Philadelphia, of Quaker ancestry reaching back to the days of William Penn, it is not surprising that young Wrigley grew to sturdy manhood. As a boy he indulged in simple, boyish sports, and no spot was dearer to his heart than the nearby swimming hole. Surrounding this romantic place were great beds of spearmint. Now remember in the first place that spearmint, or mint as we call it in this country today, is what in England they call peppermint, but anyhow it was mint, and on the borders of the old swimming hole the lusty young Quaker lad picked the mint leaves whose flavor he loved so well and chewed them to his heart's content. No doubt he carried home great bouquets of the leaves, and it is said that the sweetheart of his childhood was decorated with laurels of the spear.
The Philadelphia boy went to Chicago some years ago, and today his little pink package of five sticks of mint-flavored chewing gum is known nation-wide. Starting in life strong and rugged in health, careful in making plans, but quick and decisive in action, no one has been more surprised at the great success that crowned his efforts than William Wrigley, Jr., himself. When he first began to mix the juice of mint leaves with his chewing gum his friends laughed at him. After a while, however, they acquired the taste. Wm. Wrigley, Jr., experimented carefully, and became convinced that no flavor would be more enduring and more popular. Dark predictions of failure were made when he started manufacturing on a large scale, but with enthusiasm and confidence in his mission, young Wrigley held to his plans, and devoted himself exclusively and entirely to the exploitation of chewing gum. Nothing daunted, he braved both opposition and sneers, until today at the very head of New York's "Great White Way," night after night the message of Wrigley's chewing gum gleams forth.
Wrigley, Jr., has spent more than a million dollars a year in advertising, and has flavored, so to speak, the taste and palate of the American people through the virile force of publicity and the incomparable quality of his goods. Omnipresent indeed is Wrigley's chewing gum—in every city, town, village and hamlet, even in the isolated farmhouse or cabin of the frontiersman "Spearmint" gum is found. The cowboy of the plains, inveterate smoker of cigarettes, will often pull out a stick of spearmint when the high winds prevent him from smoking, owing to the danger of starting prairie fires. At the restaurant, after a hearty meal, the diner finds the bottle with spearmint ready to aid his digestion. At the theater, on the trains, in the streets, everywhere are the boys with chewing gum, supplanting the match girls of Dickens. The Kentucky colonel who was wont to drink his toddy flavored with mint, suggestive of purling [p.876] streams and placid pools, finds in his stick of Spearmint a pleasing substitute. It has diminished the desire for chewing tobacco, and the smoker who "swears off" finds consolation in the mint-flavored gum. In the sleeping car it takes the place of a drink of water, and in these days of state sanitary laws against public drinking cups, many a person is glad to have Spearmint at hand for quenching his thirst. Physicians have decided that nothing is more conducive in quieting the overwrought nerves of the American people than the occasional chewing of a piece of [p.877] gum. While not strictly medicinal, it furnishes that drop of mint which has long had its place in the household as a tonic—good for the baby with the colic, for the boys and girls, for father and mother, and on through the days of silver and sunset, covering the seven ages of man.
Mr. Wrigley insists that it is now proper to pass a friend a stick of chewing gum as well as a cigar or some confectionery. On his desk were letters from all parts of the world, interesting human documents. One sedate Boston lady told how much she enjoyed the gum, but was compelled because of "traditional opinion" to retire to her room to enjoy it. "For," she wrote, "what would my friends think to see me chewing gum after each meal?" "Wrigley's" has become a habit.
To see Mr. Wrigley at his busy-looking desk, arranging his letters and papers, reminds one of a musician sitting at the piano strumming over the keys. He seems to caress his papers, putting one in this pigeon hole, another in that, until eventually he has grasped the details of the day's business. Then he puts the hard pedal down, so to speak, like the musician who has found the truant chord or the hidden melody. He has mastered the problems of the day, and he continues to "play the game."
And now that he has caught the fancy of the American millions with his "Spearmint," William Wrigley continues his work with the same zest in extending his field to foreign countries. He had just returned from a forty-six day European trip, and after having traveled twenty-one hundred miles in a motor car, he declared that his mind was made up to teach the English how to chew gum, and derive from it the benefits accorded to Americans.
Mr. William Wrigley's philosophy of life is inspiring. He believes first in health and in taking care of himself; he has always studied how to keep well. Even today he has eleven saddle horses, many of them bucking bronchos, and sometimes before daylight, or very early in the morning, Mr. Wrigley mounts a favorite broncho and sets forth, out among the hills. He believes in the open air, and in homely sports and exercises, and also in the oil of spearmint as one of the good old-fashioned remedies that keeps nature in tune. Over in Michigan are the great mint fields, the largest in the world, which furnish the oil for Wrigley's gum, and it is little wonder that Wrigley, Jr., loves to go among the acres of the spear-pointed leaves that flavor his popular chewing gum. More spearmint oil is used to make Wrigley's than for any other purpose in the United States.
A comparatively young man, with blue eyes hidden behind pince-nez, William Wrigley, Jr., has a hearty, vigorous and magnetic personality, and in some way he seems to have transmitted these characteristics to his sales department. He has made a scientific study of the proposition before him, which is chewing gum in all its possible relations to the life of the people. It all harks back to the school days when the child longs for the then forbidden gum. The boys of Maine, when they first introduced the hard, jaw-breaking spruce gum from the old Pine Tree state, put in motion the habit that has become as pronounced as any characteristic of the American people.
The old Yankee, who ejaculated "By gum" when something happened unexpectedly, little realized that some time people would say in all seriousness, when asked if they would have a cigar, a drink or some candy, "Buy gum."

From
National Magazine
(1912), 875-877.
(source)