(source)

Wilbur Olin Atwater

(3 May 1844 - 22 Sep 1907)




Wilbur Olin Atwater.
Obituary from
American Chemical Journal

(1907)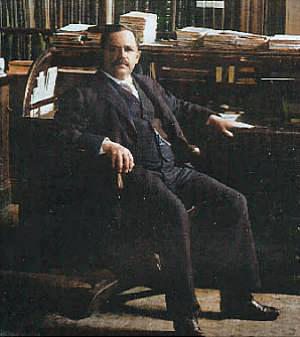 [p.652] Wilbur Olin Atwater, the son of a Methodist clergyman well known in New England, was born in Johnsburg, N. Y., May 3, 1844, and died at his home in Middletown, Conn., September 22, 1907, after an illness of nearly three years. During much of this period of illness he was able to follow to a considerable degree the progress which was made in the lines in which he was interested, but was unable to take part in work of any kind.
He received his academic training at the University of Vermont and Wesleyan University, Middletown, Conn., being graduated from the latter institution in 1865. During a period of post-graduate study at Yale University, which led to the doctor's degree in 1869, he was associated with Professors Johnson and Brewer and had his attention called to agricultural chemistry and the great opportunities this subject offered to investigators. With an insight which characterized him throughout his career, he recognized the future possibilities of such work, and from 1869 to 1871 he studied agricultural and physiological chemistry in the Universities of Leipsic and Berlin. His career as a college teacher began immediately after his return from Europe at the University of Tennessee and Maine State College, and he was called to [p.653] Wesleyan University in 1873, where he held a professorship of chemistry for over thirty years. The first State Agricultural Experiment Station in the United States was organized, largely through his efforts, in Connecticut in 1875, and he was made its first director. Interest in the experiment station movement spread rapidly, and the passage by Congress, in 1887, of the Hatch Act made possible the establishment of such a station in every State and Territory.
In 1894-5 Congress made special appropriations for nutrition investigations under the auspices of the Office of Experiment Stations, and the extended series of publications which have reported this work shows what a large contribution Professor Atwater and his associates have made to this important subject.
Familiarity with the Pettenkofer-Voit respiration apparatus, gained during his stay at Munich, led Professor Atwater to undertake the construction of a similar device, which should, however, include the determination of income and outgo of energy in addition to the income and outgo of matter, and the respiration calorimeter, which was developed by him and his associates, is unrivaled in its class as an instrument of precision, useful for the study of a very large variety of problems connected with physiology and nutrition of man and animals. The bomb calorimeter and the methods of its use were, also, materially improved under his direction.
Professor Atwater's aid was often sought in the study of nutrition problems. As instances may be mentioned the extended investigations of dietetic problems undertaken for the New York State Commission in Lunacy, studies of the nutritive values of alcohol carried on for the Committee of Fifty to Investigate the Liquor Problem, and the series of investigations undertaken for the Carnegie Institution of Washington.
Professor Atwater was a member of many learned societies and received many honors in the United States and Europe. His influence on the development of agricultural education and research in this country and on the study of human nutrition has been of very great and permanent value.
The establishment of the Office of Experiment Stations in the U. S. Department of Agriculture, as a central agency for promoting the interests of the stations, quite naturally followed and Professor Atwater was made its first director. That this Bureau has in later years followed, with great success, the general policies laid down by Professor Atwater is a proof of his wisdom and foresight.
A long list of articles in scientific and popular journals, in [p.654] publications of the Connecticut Storrs Experiment Station and the United States Department of Agriculture, etc., shows the contribution which Professor Atwater has made to the development of agricultural chemistry and agricultural education.
Parallel with his studies in agricultural chemistry, Professor Atwater began early in his career to carry on investigations in physiological chemistry, with special reference to problems of human nutrition. Among his more important earlier work may be mentioned "Studies of Chemical Composition and Nutritive Value of American Food Fishes and Invertebrates," undertaken for the U. S. Commissioner of Fish and Fisheries, and the work undertaken for the Smithsonian Institution and the Massachusetts Bureau of Statistics of Labor. In this and later work, experimental methods were evolved and lines of research outlined which have become generally adopted.
In 1882-3 he devoted considerable time at the Universities of Munich and Heidelberg to familiarize himself with German methods of studying nutrition problems, and later made the study of human nutrition an important part of the work of the Storrs Agricultural Experiment Station, of which he was for many years the director.
A.C. True
Photo (not in original text) added from USDA web page. Text from Obituary by A.C. True in Ira Remsen and Charles August Rouiller (eds.),
American Chemical Journal
(Nov 1907), 652-654.
(source)
See also:
Science Quotes by Wilbur Olin Atwater.
3 May - short biography, births, deaths and events on date of Atwater's birth.