(source)

Alexander Bache

(19 Jul 1806 - 17 Feb 1867)




ALEXANDER DALLAS BACHE.
Extract from the Coast Survey Report for 1867, by B
ENJAMIN

P

EIRCE

, LL.D., Superintendent.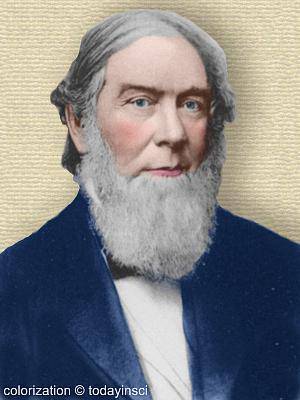 ALEXANDER DALLAS BACHE was born at Philadelphia, on the 19th of July, 1806, and died at Newport, on the 17th of February, 1867. His was a life devoted to the service of his friends, his country, and science: it was inspired by high aims, and always true to its inspiration. It was rooted in deep wisdom, it developed into an expanded growth of beneficial influence, and it ripened a full harvest of rich results. Rarely has there been such a complete and continuous unity of purpose, such a freedom from waste of intellectual power, and so successful an accomplishment of varied but connected plans. Organization and administration were his natural tasks, and his education and opportunities developed his nature. He filled many important offices, and undertook an extraordinary variety of difficult duty; but his clear perception and strong will combined them into a consistent whole. He was the centre of many powers; the bond of union of diverse, and, except through him, contradictory energies: profound science and high philanthropy rejoiced to trust their dearest interests to him; men of all politics and of every art and doctrine had faith in him, and he justified their faith. All the influences to which he was subject conspired to build him up into a great and good man.
When he was graduated at West Point, at the head of his class, great expectations were entertained of him, which were not disappointed. He was conspicuous for the noble traits of character which peculiarly distinguish the illustrious graduates of that admirable institution. Sincere and manly speech, conscientious and unflinching performance of duty, unquestioning self-sacrifice, intense and grateful love of the country to which they owe their education, honest recognition of other men's rights and merits, freedom from jealousy, fertility in adapting means to ends, and practical good sense and sound judgment, — all these qualities were eminently his, and he was the finest exponent of the possibilities of a military education for civil service. It was here, and in performance of his duty as a military engineer, that he learned the principles and practice of administering affairs and directing men, and that methods of organization first germinated in his mind. For eight years he devoted himself to physical science in his professorship in the University of Pennsylvania. His clear teaching and his valuable investigations contributed as much to the reputation of that city for science, as any one of the greatest names by which Philadelphia has been adorned. As president of Girard College, he studied all the educational institutions of Europe. Circumstances which even his influence could not control deprived the college of the full benefits of his accumulated stores of knowledge. But the opportunity was given him to develop his studies upon education in the High School of Philadelphia. His organization of this institution was a marvellous adaptation of the best systems of academic education known in Europe to American wants; and it has been the model upon which, consciously or unconsciously, the leading high schools of the country have been constructed.
In 1843, Professor Bache was appointed to be Superintendent of the Coast Survey. What it is now, he made it. It is his true and lasting monument. It will never cease to be the admiration of the scientific world. His name needs not to be carved by the hand of a sculptor. It is inscribed on the entablature of the survey, by his own greatness. It is written upon the flood of the Gulf Stream; upon the pulse of the ocean's tide; upon the oscillation of the earth's magnetism. It is written on the bases of verification, on the great triangles with which these bases were brought into comparison, and on the hill-tops which he occupied for his stations; it is written on every shoal and rock and danger to navigation, and every channel discovered by the survey, and on the beautiful charts in which they are used by the grateful sailors; and it is written on all the investigations in geology, astronomy, and terrestrial physics, which have been conducted by the strongest intellect of the country combined under his control. No other name can replace his, or stand by its side. To whatever place, and at whatever time the knowledge of the Coast Survey of the United States shall penetrate, it must carry with it the name of Bache. He is gone; but he is not forgotten. While he lived, he was the acknowledged head of the science of his country; and he still lives, a glorious example and a cheering inspiration to us in the service of our country, of science, and of mankind.

Image (not in original text) added from source shown above. Text from Benjamin Peirce, in
Coast Survey Report for 1867
.
(source)
See also: