(source)

Amelia Blanford Edwards

(7 Jun 1831 - 15 Apr 1892)




Excerpt from
A Thousand Miles Up the Nile
by Amelia B. Edwards
about Camel-Riding on her travels in Egypt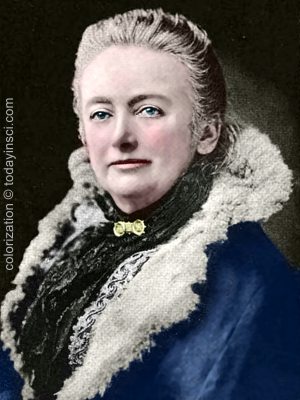 [p.275] Now the camel-riding that is done at Assouan is of the most commonplace description, and bears to genuine desert travelling about the same relation that half-an-hour on the Mer de Glace bears to the passage of the Mortaretsch glacier or the ascent of Monte Rosa. The short cut from Assouan to Philæ, or at least the ride to the granite quarries, forms part of every dragoman's programme, and figures as the crowning achievement of every Cook's tourist. The Arabs themselves perform these little journeys much more pleasantly and expeditiously on donkeys. They take good care, in fact, never to scale the summit of a camel if they can help it. But for the impressionable traveller, the Assouan camel is de rigueur. In his interests are those snarling quadrupeds be-tasselled and be-rugged, taken from their regular work, and paraded up and down the landing-place. To transport cargoes disembarked above and below the Cataract is their vocation. Taken from this honest calling to perform in an absurd little drama got up especially for the entertainment of tourists, it is no wonder if the beasts are more than commonly ill-tempered. They know the whole proceeding to be essentially cockney, and they resent it accordingly.
[p.276] The ride, nevertheless, has its advantages; not the least being that it enables one to realise the kind of work involved in any of the regular desert expeditions. At all events, it entitles one to claim acquaintance with the ship of the desert, and (bearing in mind the probable inferiority of the specimen) to form an expede judgment of his qualifications.
The camel has his virtues—so much at least must be admitted; but they do not lie upon the surface. My Buffon tells me, for instance, that he carries a fresh-water cistern in his stomach; which is meritorious. But the cistern ameliorates neither his gait nor his temper— which are abominable. Irreproachable as a beast of burden, he is open to many objections as a steed. It is unpleasant, in the first place, to ride an animal that not only objects to being ridden, but cherishes a strong personal antipathy to his rider. Such, however, is his amiable peculiarity. You know that he hates you, from the moment you first walk round him, wondering where and how to begin the ascent of his hump. He does not, in fact, hesitate to tell you so in the roundest terms. He swears freely while you are taking your seat; snarls if you but move in the saddle; and stares you angrily in the face, if you attempt to turn his head in any direction save that which he himself prefers. Should you persevere, he tries to bite your feet. If biting your feet does not answer, he lies down.
[p.277] Now the lying-down and getting-up of a camel are performances designed for the express purpose of inflicting grievous bodily harm upon his rider. Thrown twice forward and twice backward, punched in his "wind" and damaged in his spine, the luckless novice receives four distinct shocks, each more violent and unexpected than the last. For this "execrable hunchback" is fearfully and wonderfully made. He has a superfluous joint somewhere in his legs, and uses it to revenge himself upon mankind.
His paces, however, are more complicated than his joints and more trying than his temper. He has four:— a short walk, like the rolling of a small boat in a chopping sea; a long walk which dislocates every bone in your body; a trot that reduces you to imbecility; and a gallop that is sudden death. One tries in vain to imagine a crime for which the peine forte et dure of sixteen hours on camel-back would not be a full and sufficient expiation. It is a punishment to which one would not willingly be the means of condemning any human being—not even a reviewer.
They had been down on the bank for hire all day long —brown camels and white camels, shaggy camels and smooth camels; all with gay worsted tassels on their heads, and rugs flung over their high wooden saddles, by way of housings. The gentlemen of the Fostat had ridden away hours ago, cross-legged and serene; and [p.278] we had witnessed their demeanour with mingled admiration and envy. Now, modestly conscious of our own daring, we prepared to do likewise. It was a solemn moment when, having chosen our beasts, we prepared to encounter the unknown perils of the desert. What wonder if the Happy Couple exchanged an affecting farewell at parting?
We mounted and rode away; two imps of darkness following at the heels of our camels, and Salame performing the part of bodyguard. Thus attended, we found ourselves pitched, swung, and rolled along at a pace that carried us rapidly up the slope, past a suburb full of cafes and grinning dancing girls, and out into the desert. Our way for the first half-mile or so lay among tombs. A great Mohammedan necropolis, part ancient, part modern, lies behind Assouan, and covers more ground than the town itself. Some scores of tiny mosques, each topped by its little cupola, and all more or less dilapidated, stand here amid a wilderness of scattered tombstones. …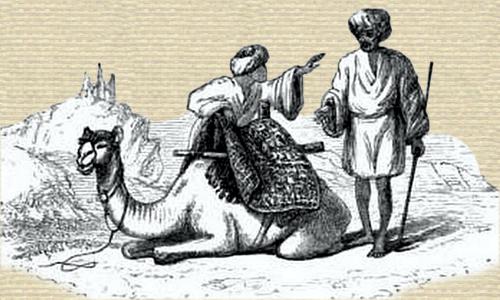 Camel illustration from original text p.287. Photo of Amelia Edwards from source shown, colorization © todayinsci.com Text from Amelia B. Edwards, 'Assouan and Elephantine',
A Thousand Miles Up the Nile
(1877), Vol. 1, Chap. 10, 275-278.
(source)
See also:
Science Quotes by Amelia Blanford Edwards.
7 Jun - short biography, births, deaths and events on date of Edwards's birth.
Amelia Edwards: Traveller, Novelist & Egyptologist, by Joan Rees. - book suggestion.