(source)

Albert Einstein

(14 Mar 1879 - 18 Apr 1955)




Albert Einstein Quote
"Mathematics…a product of human thought"
Illustrated Quote - Large (800 x 600 px)
Page from Einstein's Zurich notebook, showing summary of the derivation of gravitational field equations of unknown covariance that are not derived from the Riemann tensor

(source)

The Context of Albert Einstein's "Mathematics…a product of human thought" Quote
This quote comes from a lecture, "Geometry and Experience". For short extract of his talk, see Albert Einstein - Mathematics and Reality.
When Albert Einstein delivered his lecture at the Prussian Academy of Science in Berlin on 27 January 1921, he spoke in German. An English translation was published, in which the quotes as we know them can be found.

Quote illustration and context by Webmaster.
(source)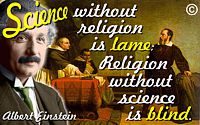 "Galileo Facing the Roman Inquisition," by Christiano Banti.
(source)