(source)

Albert Einstein

(14 Mar 1879 - 18 Apr 1955)




Albert Einstein
"Our exalted technological progress"
Illustrated Quote - Medium (500 x 350 px)
This quote is a translation into English from a letter written to his friend Heinrich Zangger on 6 Dec 1917. Einstein was then living in Berlin, Germany. World War I, which had begun on 1 Aug 1914, was still in progress. He had joined the pacifist Bund Neues Vaterland,. Thus his comments at this time show he had concerns about the misuse of advances in science, decades before atomic bombs were created.
In 1906, Henrich Zangger had asked Einstein for advice in a patent matter. They maintained a long exchange of letters until 1947. Zangger was a Swiss toxicologist, a professor of forensic medicine at the University of Zurich (appointed 1905). Einstein received his awarded a doctorate from the University of Zurich in April 1906, and had been working at the Swiss Patent Office in Bern (applied Dec 1901, left 1909). By 1917, Einstein had already formulated his theory of relativity (special and general).
During the years of World War I, Einstein and Zangger exhanged several letter expressing dismay at the atrocities and ravages of the war. Einstein's strong sense of moral urgency is demonstrated in his private letters. As given by a different translator of his Dec 1917 letter to Zangger, Einstein wrote
How is it at all possible that this culture-loving era could be so monstrously amoral? More and more I come to value charity and love of one's fellow being above everything else. … All our lauded technological progress—our very civilization—is like the axe in the hand of the pathological criminal.
Ironically, Einstein contributed peripherally to that wartime use of technology. In the summer of 1916, he published a short paper, Elementary Theory of Waves in Water and of Flying. In this paper, he gave some thoughts on the shape of aircraft wings, though his idea of a hunch-backed wing went nowhere. Also, in a patent dispute about a gyrocompass design, Einstein contributed his opinion about an experimental examination.
Zangger would later publish Vergiftungen ("Poison Control," 1924), in which he pointed out numerous new poisoning hazards relating to the development of technology, together with how to combat them with prevention, diagnosis and therapy.
1. Albrecht Folsing and Ewald Osers, Albert Einstein: A Biography (1998), 400-402.
Text by Webmaster. The quote as seen in English varies slightly with different translators. The short version above comes from
Collected Papers of Albert Einstein
(1997), Vol. 8, 412, as cited by Jürgen Neffe in
Einstein: A Biography
(2007), 256. The longer quote is from Helen Dukas and Banesh Hoffmann (eds.)
Albert Einstein, the Human Side: New Glimpses from His Archives
(1981), 17.
(source)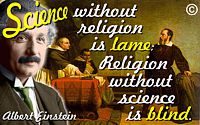 "Galileo Facing the Roman Inquisition," by Christiano Banti.
(source)