(source)

Paul Kroegel

(9 Jan 1864 - 1948)




Pelican Island of Indian River
from Florida East Coast Homeseeker (1909)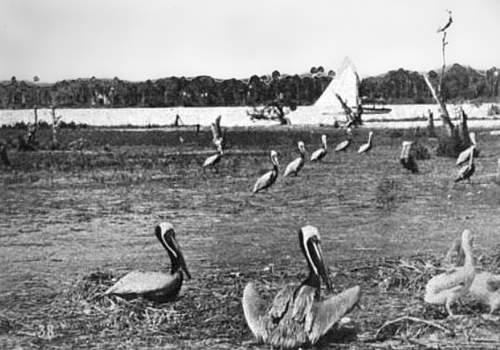 PELICAN ISLAND, INDIAN RIVER. BIRD ON NEST IN FOREGROUND.
Photo by Florida Photo Concern.
Pelican Island, situated in Indian river, Southeast of Sebastian, about twenty miles north of Fort Pierce is one of only three pelican breeding grounds in the United States, and it also has the distinction of being the largest of the three. There is one small island near Tampa and another on the coast of Texas, and all the pelicans that inhabit the waters of the United States are hatched on one or the other of these three islands.
The island is in charge of Mr. Paul Kroegel, of Sebastian, the special commissioner of the government and of the National Audubon Society to look after the birds and protect them from slaughter by thoughtless hunters and boys.
These birds have inhabited this island ever since this country was first explored by the white men who found them there at that time, but upon the advent of the tourist into Florida and down the Indian river a tremendous slaughter took place and had it not been that the Audubon Society persuaded the National Government to extend protection they would have been exterminated. Now that the island has been placed under the care of Mr. Kroegel they have increased rapidly and every year from several thousand nests the young pelicans swim away from the island on their maiden voyage.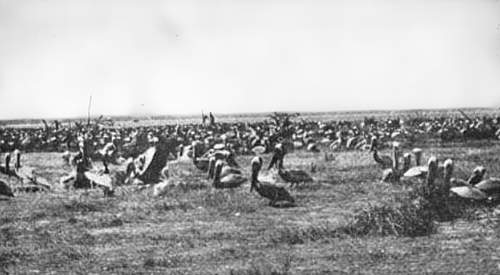 YOUNG AND OLD PELICANS. NESTS AND EGGS ON PELICAN ISLAND.
Photo by Florida Photo Concern.
The habitation of this island by these birds has killed every vestige of vegetation except a loose coarse grass from which the nests are formed.
The pelican is a very large waterfowl, larger than a swan and remarkable for its enormous bill, at the lower edge of which is attached a pouch of a capacity of many quarts. In obtaining its food the pelican circles around over the water and espying a fish beneath the surface, it makes a rapid clumsy dive and on catching its prey it lazily floats on the water with the fish jumping about in the pouch beneath its bill. The bird elevates its head in the air, dextrously turns the fish about with its head downward, when it is seen to disappear down the long neck of the pelican, giving the appearance of swallowing a plate.
The action of the pelican in flight and in securing its prey is very interesting and they are always eagerly watched by the travelers, and form one of the interesting features of a trip on the Indian river.

Text and images from
Florida East Coast Homeseeker
(Jun 1909),
11
, No.6, 193.
(source)