(source)

George Fownes

(14 May 1815 - 31 Jan 1849)




George Fownes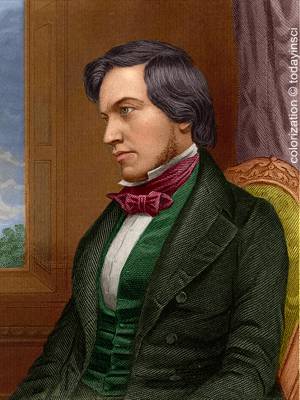 English chemist, whose early schooling began at Enfield, Middlesex, and continued in Bourbourg, near Gravelines, France.
Although at first he seemed destined for a trade career, by age 17 he had decided to commit to chemistry and began attending a philosophical class at the Western Literary Institution, in Leicester-square, London. Thomas Everett and Henry Watts contributed to the philosophical class to the mutual improvement of its members by lecturing and experiments.
He began studies under Professor Thomas Everitt, an accomplished analyst and chemical lecturer, at Middlesex Hospital in January 1837. Fownes spent a portion of 1839 with Professor Liebig at Giessen, Germany, pursuing his Ph.D. , then returned to England and until 1840 was an assistant in the laboratory of Professor Graham at University College.
In the next two years Fownes held a post as lecturer at Charing Cross hospital, then in 1842 became professor of chemistry to the Pharmaceutical Society, and in the same year was able to return to Middlesex Hospital to succeed his mentor, Professor Everitt, as chemical lecturer there.
In 1842, he won a prize from the Royal Agricultural Society for his essay, Food of Plants. He presented a series of six lectures on "The Chemistry of Vegetable Life" in Jan and Feb 1844 at the London Institution1. In the same year, he published his essay, Chemistry as Exemplifies the Wisdom and Beneficence of God, in which he gave presented aspects of animal and plant chemistry. For this work he had won one hundred guineas (£105) as the first Actonian Prize awarded by the Royal Institution since it was endowed in 1838 by Hannah Acton.
He also published in 1844 a general text-book of chemistry, A Manual of Elementary Chemistry, Theoretical and Practical which became very successful and survived decades after him through twelve editions, the last in 1872. Fownes worked on the first two editions, and a third published posthumously. Later editions were revised and expanded by other editors: H. Bence Jones, A.W. Hofmann, and Henry Watts.
Fownes gained a reputation for his particular interest in organic chemistry. He combined both insight and careful analyses in his research which led to notable discoveries. As reported in Philosophical Transactions of 1845, he was presented with a royal medal by the Royal Society for his research on furfurine and benzoline, names which Fownes coined. His preparation of furfurine was the first successful artificial production of a vegeto-alkali or organic salt-base, and he discovered the organic compound benzoline, another organic salt-base, obtained from oil of bitter almonds.
By 1845, his health began to decline with symptoms of pulmonary disease that caused him to resign from both his positions with the Middlesex Hospital and the Pharmaceutical Society.
However, he resumed his academic work in 1846 as professor of practical chemistry at University College where the Birkbeck Laboratory had just been established. He was recommended for the position by his friend Professor Graham. Fownes was both an effective teacher and organised there an excellent course of practical instruction, although his failing health limited his tenure to the last two years of his life.
In Spring 1847 he travelled to Barbados in hopes of health benefits from the warm climate. He caught a cold after his return to England in 1848 from which he died at the age of only 34 years on 31 January 1849, at his father's house in Brompton.
By the time of his death, he had for several years been secretary of the Chemical Society, in whose journal he had published a number of his papers. Although he died young, he had a productive decade of life in which he had eighteen papers to his credit that had appeared in several journals. These included:
On the Equivalence of Carbon, Philosophical Magazine, 1839, (his first)
Direct Formation of Cyanogen from its Elements, British Association Report, 1841
Artificial Yeast, Proceedings of the Chemical Society
Action of Oil of Vitriol on Ferrocyanide of Potassium, Proceedings of the Chemical Society
Hippuric Acid, Proceedings of the Chemical Society
Phosphoric Acid in Felspar of Jersey, Proceedings of the Chemical Society
On the Existence of Phosphoric Acid in Rocks of Igneous Origin, Philosophical Transactions of the Royal Society, read 25 Apr 1844
An Account of the Artificial Formation of a Vegeto-Alkali, Philosophical Transactions of the Royal Society, read 23 Jan 1845
On Benzoline, a New Organic Salt-base Obtained from Oil of Bitter Almonds, Philosophical Transactions of the Royal Society, read 29 May 1845
On the Value of Absolute Alcohol in Spirits of Different Specific Gravities, Philosophical Transactions of the Royal Society, read 17 Jun 1847
On the Equivalent or Combining Volumes of Solid Bodies, Pharmaceutical Journal, 1849, (his last)
1
Literary and Scientific Intelligence: London Institution, Sylvanius Urban (ed.),
The Gentleman's Magazine
(1843), New Series Vol. 20, (1843), 629.
References:
William Jerome Harrison, 'George Fownes', in Leslie Stephen (ed.), Dictionary of National Biography, (1899) Vol 20, 90.
Earl of Rosse, 'Address Delivered before the Royal Society', Abstracts of the Papers Communicated to the Royal Society of London, Vol. 5. (1843-1850), 882.
Text by Webmaster, using references listed above.
(source)