(source)

Wilhelm Hofmeister

(18 May 1824 - 12 Jan 1877)




WILHELM FRIEDRICH BENEDICT HOFMEISTER.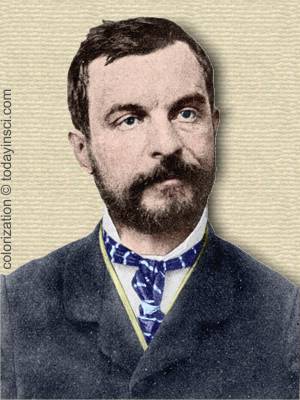 [p.328] Wilhelm Friedrich Benedict Hofmeister, the distinguished vegetable anatomist, and the successor of von Mohl in the chair of Botany at the University of Tübingen, died on the 12th of January last, in the 53d year of his age. He was born at Leipzig, May 18, 1824, where his father was a publisher; and the son entered upon the same profession, devoting, however, his leisure to microscopical research. His first memoir, which established his reputation, viz., that on the formation of the embryo in plants (Die Entstehung des Embryo der Phanerogamen), was published at Leipzig in the year 1849. These researches were confined to the monocotyledonous and proper dicotyledonous plants. It was followed, in 1851, by his still more important and elaborate researches upon the development and fructification of the higher Cryptogamia and the Coniferæ; and soon after appeared another memoir upon the Vascular Cryptogamia (Beiträge zur Kentniss der Gefässkryptogamen). In 1859 and 1861, he brought out the results of his new investigations upon the formation of the embryo in phanerogamous plants. His minor contributions to the journals of the day are numerous, all relating to vegetable anatomy and development. Called now to the chair of Botany in the University of Heidelberg, he undertook the preparation of a text-book, viz., the Handbuch der Physiologischen Botanik, in connection with DeBary, Irmisch, and Sachs; each taking a particular department. Hofmeister published the main anatomical part (Die Lehre von der Pflanzenzelle) in 1867, and the morphological (Allgemeine Morphologie der Gewächse) in 1868. Since his translation to Tübingen, in the autumn of 1872, only minor papers have appeared, to testify that his wonderful energy was not exhausted. Hofmeister was a worthy successor of Mohl; but the contrast is striking. Mohl published far too little; but all that he wrote was clear and plain. Although the value of Hofmeister's work [p.329] may be well proportioned to its amount, and although his earlier writings are not wanting in perspicuity, it is reported that his fellow-laborers among his own countrymen find it difficult to understand his later publications.

From
Daedalus: Journal of the American Academy of Arts and Sciences
(1877),
12
, 328-329.
(source)
See also:
Science Quotes by Wilhelm Hofmeister.
18 May - short biography, births, deaths and events on date of Hofmeister's birth.