(source)

Chester R. Longwell

(15 Oct 1887 - 15 Dec 1975)




Chester R. Longwell - Device of … Frustration
Illustrated Quote - Large (800 x 600 px)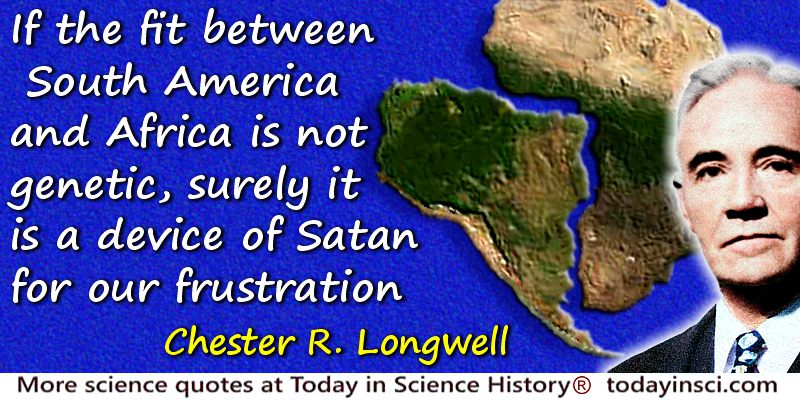 Click image for medium 500 x 250px version

The Context of Chester Longwell's "Device of … Frustration" Quote
Chester Longwell read a paper at a Symposium held at the University of Tasmania, that was published in 1958. The subject of the role of paleomagnetism as evidence of continental drift was a current issue for geologists at that time. The classical evidence, as Longwell acknowledged, began with:
"The most elementary example of physical evidence is of course the 'fit' between eastern South America and western Africa, presumably the very germ of the drift concept."
Longwell noted that H.B. Baker had questioned in 1914 that the fit was "too accurate to have persisted since the Mesozoic era."
However, the geologists were faced with newer evidence in the form of studies of the residual magnetization in rocks, which preserved information on the orientation of the earth's magnetic field as it existed in the past. Measurements for rocks in Europe and North America indicated the rocks were formed in far different locations than their present positions. That suggested Europe and North America have drifted away from each other over millions of years. Longwell, though, had a preference to interpret the paleomagnetic results in terms of polar wandering alone. The evidence could also show the location of the geomagnetic poles had changed while the continents remained in place. Yet after presenting that criticism in favour of that proposition, Longwell was still prepared to be open-minded:
"These critical comments may suggest that I am an incurable sceptic toward continental drift. I admit to scepticism which, it seems to me, is the soul of scientific inquiry; but I have no unfriendly feeling for the concept of drifting continents—on the contrary I find it attractive and in several respects credible.
The Atlantic basin looks like a gigantic rift; if the fit between South America and Africa is not genetic, surely it is a device of Satan for our frustration; the east and west coasts of Africa are strangely bare—we may say raw—in comparison with continental margins generally; pairing of some structural trends on opposite sides of the ocean is at least suggestive of former continuity. In spite of this appeal, I remain incredulous… But developments may change this point of view.
What was lacking at that time was a satisfactory explanation of the mechanism for the movement to be accomplished in continental drift. Indeed, developments did come that provided the understanding. By our present time, the theory of the movement of tectonic plates is so well accepted it appears in the science curriculum for K12 education. As one college instructor expresses it, "Today, you might be laughed out of a geology course for questioning whether continents move through geologic time."

Quote from symposium paper, 'My Estimate of the Continental Drift Concept' presented at University of Tasmania, published in S.W. Carey,
Continental Drift: A Symposium
(1958), 10. Excerpted in Henry R. Frankel, The Continental Drift Controversy: Paleomagnetism and Confirmation of Drift (2012), 342-343.
(source)
See also:
Science Quotes by Chester R. Longwell.
15 Oct - short biography, births, deaths and events on date of Longwell's birth.
Chester R. Longwell - context of quote "Device of … Frustration" - Medium image (500 x 250 px)