(source)

Chester R. Longwell

(15 Oct 1887 - 15 Dec 1975)




Science Quotes by Chester R. Longwell
(2 quotes)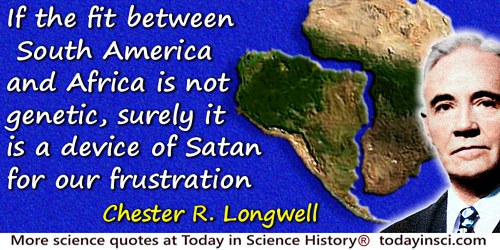 If the fit between South America and Africa is not genetic, surely it is a device of Satan for our frustration.

— Chester R. Longwell

The Wegener hypothesis has been so stimulating and has such fundamental implications in geology as to merit respectful and sympathetic interest from every geologist. Some striking arguments in his favor have been advanced, and it would be foolhardy indeed to reject any concept that offers a possible key to the solution of profound problems in the Earth's history.
Published while geologists remained sceptical of Alfred Wegener's idea of Continental Drift, Though unconvinced, he published these thoughts suggesting that critics should be at least be open-minded. His patience was proven justified when two decades later, the theory of plate tectonics provided a mechanism for the motion of the continents.

— Chester R. Longwell

See also:
15 Oct - short biography, births, deaths and events on date of Longwell's birth.
Chester R. Longwell - context of quote "Device of … Frustration" - Medium image (500 x 350 px)
Chester R. Longwell - context of quote "Device of … Frustration" - Large image (800 x 600 px)