(source)

Stephen McCormick

(26 Aug 1784 - 28 Aug 1875)




Stephen McCormick
American inventor and manufacturer of a cast iron plow with detachable components.
He introduced the concept of replaceable and standardized parts.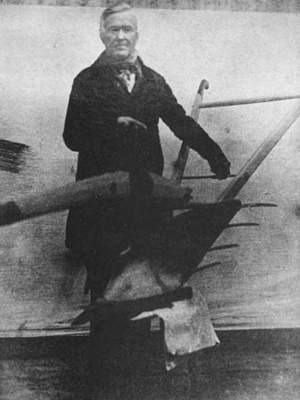 Stephen McCormick showing his plow
(source)
Stephen McCormick was born in Auburn, Fauquier County, Virginia. He was a cousin of Cyrus McCormick who invented the famous reaper.
Ignoring his father's wishes that he study law, McCormick turned to invention, and one of his earliest achievements was to increase the productivity of the water-powered grist-mill by improving the shape of its nether millstone. On its face, grain was placed to be ground by the rotation of the upper stone. The shape of the grinding surfaces controls how the meal that was introduced in the middle would work its way out to the rim, and leave as flour.
By 1816, he had turned his inventiveness to the manufacture of a cast-iron plow that improved on the earlier design of Charles Newbold. McCormick created his plow with detachable components. His cast-iron mould board was designed to have an adjustable wrought-iron point attached beneath it. In use the plow had a lower draft, but produced a deeper furrow and broke up the soil more effectively.
His ideas led to the use of replaceable, standardized parts. McCormick's first patent was issued on 3 Feb 1819 (No. X3063), with further patents on 28 Jan 1826 (No. X4325) and 1 Dec 1837 (No. 501).
After starting production of plows on his Auburn farm for local sales, by 1826, McCormick had expanded his marketing efforts to the entire state of Virgina and the South. In addition to his manufacturing at Auburn, he started factories in Leesburg and Alexandria, Virginia, which sold plows either by direct sales to the farmer, or through his company, McCormick and Minor, based in Richmond.
In addition to the plows built at his own factories, McCormick had an income from licensing his design to some dozen iron foundries in Virginia, with a royalty of up to seventy-five cents per plow. In this way, more than ten thousand plows of McCormick's design had been made by 1839.
Within a year of his second patent, McCormick experienced infringement of his patent rights when other iron foundries widely copied the design without paying royalties. McCormick even had to defend his patent against a claim of infringement by inventor Gideon Davis, but the matter was settled out of court.
While McCormick's sales were primarily in Virginia, and to a lesser extend in the Southern U.S. the well-known inventor, Jethro Wood, successfully manufactured and sold cast-iron plows in the Northern U.S. states. Wood's patent, however, was issued about seven months later than McCormick's.
The main period of activity for the production of his plows spanned from 1826 to 1850, and when McCormick later retired from the business to enjoy his later life, he lived to the age of ninety-one.
Ref: Dictionary of American Biography.