(source)

Ludwig Mond

(7 Mar 1839 - 11 Dec 1909)




Ludwig Mond
by Charles Baskerville
Professor of Chemistry, College of the City of New York.
from The Engineering and Mining Journal (1 Jan 1910)
[p.3] Ludwig Mond, the distinguished chemist, inventor, technologist and art connoisseur, died on Dec. 10 at his London residence, "The Poplars," 20 Avenue-road, Regent's Park, N.W. Doctor Mond was born at Cassel, Germany, March 7, 1839; and was educated at the Polytechnic School, Cassel, and at the Universities of Marburg and Heidelberg. In 1862. he went to England and engaged in the Leblanc soda industry, introducing his process for recovering sulphur from alkali waste. In 1873, he established, in partnership with T. T. Brunner, at Winnington, Northwich, Cheshire, the manufacture of ammonia-soda by the Solvay process, which he perfected; and the works there constitute the largest alkali establishment in the World. Among the inventions of Mond were processes for the manufacture of chlorine, a method of producing gas for heating and power purposes, and a process of making pure nickel. The latter was based on the formation of nickel carbonyl, a chemical compound which he discovered and investigated with Langer and Quincke. A list of his patents is found below.
Application of Research the Cause of His Success
At the inaugural meeting of the Society of Chemical Industry held in London in 1881, Mond read a paper on "Patent Laws as applied to Chemical Inventions," in which he remarked that, "Science tells us how very far we are from attaining our industrial aims with anything approaching the theoretical expenditure of force. Science also tells us in what directions we may look forward to arriving at improvements. I might say that we are on the eve of creating a science of invention, that is, of developing scientific methods for solving industrial problems." In 1889, in his presidential address before the same organization, Mond—in order to exemplify the application of methodical research to an industrial problem—presented an account of the work he had been engaged in for many years in relation to the procuring of new and abundant supplies of ammonia. His attention was called to this subject as early as 1861, but it was not until 1879 that he found abundant opportunity to investigate thoroughly the various processes which had been proposed for obtaining ammonia from the nitrogen of the air. This work led to the construction of gas producers and absorbing plants of various designs, and Mond and his assistants achieved great success in economically obtaining ammonia, tarry matters and combustible gases from coal. Then, too, they proved the delusiveness of some supposedly valuable processes; and the results obtained showed Mond to be, to quote Sir Lowthian Bell, "A man of exceptional intelligence and learning supplemented by that devotion of mind which qualified him to pursue his work with great energy and perseverance."
Discovery of Nickel Carbonyl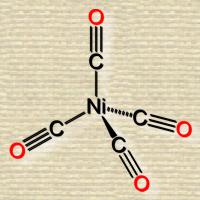 In the fall of 1895, Mond visited the United States and on Nov. 11 delivered an address on "The History of My Process of Nickel Extraction" before the New York Section of the Society of Chemical Industry. This process, it appears, was discovered in. an accidental manner; to quote, in part, his own account: "Soon after I had satisfied myself that the ammonia-soda process was far cheaper than the Leblanc process for producing carbonate of soda pure and simple, it became evident to me that a time would come when the Leblanc process would produce carbonate of soda as a by-product of the bleaching powder manufacture, which it would have to dispose of at any price it would fetch. I therefore undertook a series of experiments with the object of producing bleaching powder as a by-product of the ammonia soda process." He gave his attention to producing the chlorine direct from the ammonium chloride, separated from the solution in which it is originally obtained by refrigeration; and in developing this process, he said: "I had to construct a plant for volatilizing NH4Cl, which I found an extremely difficult problem, as the vapor of this substance not only acts on oxides and salts, but also violently attacks the large majority of metals. I succeeded in lining iron vessels with glazed tiles in such a way that they would withstand this action, but I required valves for changing from the current of ammonium chloride vapor to hot air and vice versa, which had to be very tight to prevent a large loss of ammonia. I found that nickel was one of the few substances suitable for the construction of these valves, and that it was not at all attacked by ammonium chloride vapor. On the laboratory scale these nickel valves worked perfectly, but when I applied them on a manufacturing scale I found them to be acted upon and very soon to become leaky. The faces became covered with a black crust, which, on examination, was found to contain carbon. The source of this carbon seemed mysterious, the only difference between the work on the small scale and that on the large scale being that on the small scale we swept the ammonia out of the apparatus by means of pure CO2, before admitting the hot air; while on the large scale, we used the gases from a limekiln, containing a few per cent. of CO. This led us to study the action of CO on nickel." Assisted by Langer, Mond discovered the curious compound nickel carbonyl, and for a long time they were engaged in an investigation of its physical and chemical properties. Finally Mond came to the conclusion that it ought to be possible to make use of the ease with which nickel is converted into a volatile gas by CO—while practically all other metals, and notably cobalt, were not acted upon by this gas—for separating nickel from cobalt and other metals on a manufacturing scale; consequently he "erected a plant on a large scale near Birmingham, and after several years of hard work, during which the apparatus had to be several times reconstructed so as to fulfil all the conditions of this rather delicate process," he succeeded in his object.
Personal Traits And Incidents
Doctor Mond was an art lover, and his collection of early Italian masters is one of the finest in England. He was fond of Italy, and maintained a residence at 64 Via Sistina, Rome.
He founded and endowed the Davy-Faraday Research Laboratory of the Royal Institution in 1896. He was a fellow of the Royal Society; vice-president of the Royal Institution; a life member of the London Chemical Society, of which organization he served on the Council in 1885-6, and acted as vice-president in 1887-90, and 1894-98; an original member of the Society of Chemical Industry, of which he was president in 1888-89 and vice-president in 1890; a member of the British Association for the Advancement of Science, acting president of the Chemical Section in 1896; an honorary member of the Deutsche Chemische Gesellschaft since 1908; and a member of the Berliner Verein Deutscher Chemiker. He was also a fellow of the institute of [p.4] Chemistry, and the recipient of the honorary D.Sc. degree from Victoria and Oxford Universities, and an honorary Ph.D. from Heidelberg University. He was vice-president of the joint organizing committee of the Seventh International Congress of Applied Chemistry, which was held in London from May 27 till June 2, 1909; and acted as president of Section II, Inorganic Chemistry and Allied industries. During the session of the Congress, Doctor Mond held several receptions at his home. At one of these, which was given by Dr. and Mrs. Ludwig Mond and Robert Mond, their son—also a chemical engineer of prominence—on Sunday afternoon, May 30, about 1700 tickets were issued. These included the entire Italian delegation, which took advantage of the occasion to present Doctor Mond with a noble bronze in appreciation of his numerous gifts to the art and science of Rome. The garden party was not only complete in the most elaborate detail for the varied entertainment on a suitable scale for the large company, but was arranged to display some of the exquisite ancient art recovered in Egyptian excavations, the expenses of which were borne by the Mond family. In the adjoining home of Robert Mond there was perhaps the best exhibition of colored photographs—many taken by him—in any private collection. One also saw there pure nickel and cobalt in various forms, and the various carbonyls of nickel, iron, cobalt and palladium, some shown for the first time.

Photo (identical, but from a clearer reproduction, from source shown above) and text from Charles Baskerville, 'Ludwig Mond',
The Engineering and Mining Journal
(1 Jan 1910),
89
, No. 1, 3-4.
(source)