(source)

Carl Sagan

(9 Nov 1934 - 20 Dec 1996)




Carl Sagan
"Advances in medicine and agriculture"
Illustrated Quote - Medium (500 x 250 px)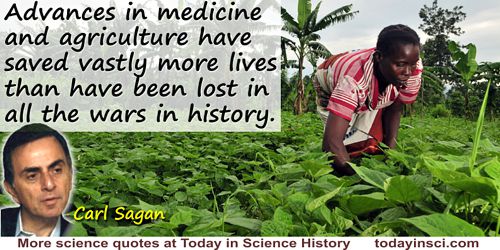 A bean farmer checks her crop in Congo. Photo by Neil Palmer (CIAT). CC2.0
(source)
Carl Sagan in his book Demon-Haunted World named the first chapter, "The Most Precious Thing." He begins by recalling a conversation in which he disabused an inquisitive man of his notions of extraterrestrials, Atlantis, astrology and such, about which he seemed well-read but uncritical. Although intelligent, the person with whom Sagan conversed was woefully uninformed of modern science. Too much pseudoscience snare the gullible. The problem, says Sagan, is:
"Science arouses a soaring sense of wonder. But so does pseudoscience. Sparse and poor popularizations of science abandon ecological niches that pseudoscience promptly fills. If it were widely understood that claims to knowledge require adequate evidence before they can be accepted, there would be no room for pseudoscience."
So Sagan adeptly summarizes the advance of knowledge from the time of Hippocrates of ancient Greece to our modern successes for reducing infant mortality, epidemics and treating disease. He also acknowledges,
"I know that science and technology are not just cornucopias pouring gifts out into the world. Scientists … conceived nuclear weapons… Physicians in Tuskegee, Alabama, misled a group of veterans into thinking they were receiving medical treatment for their syphilis, when they were the untreated controls. The atrocious cruelties of Nazi doctors are well-known. Our technology has produced thalidomide, CFCs, Agent Orange, nerve gas, pollution of air and water, species extinctions, and industries so powerful they can ruin the climate of the planet."
Sagan understands that "The sword of science is double-edged." Yet, it still remains true that, on balance:
"Advances in medicine and agriculture have saved vastly more lives than have been lost in all the wars in history. Advances in transportation, communication and entertainment have transformed and unified the world."
To illustrate his point about advances in medicine, which was the subject quote opening this page, Sagan provided a footnote:
"At a large dinner party recently, I asked the assembled guests - ranging in age, I guess, from thirties to sixties - how many of them would be alive today if not for antibiotics, cardiac pacemakers, and the rest of the panoply of modern medicine. Only one hand went up. It was not mine."

Text by Webmaster with quotes from
The Demon-Haunted World: Science as a Candle in the Dark
(1996), 11.
(source)