(source)

Carl Sagan

(9 Nov 1934 - 20 Dec 1996)




Carl Sagan - A Subject Called Chemistry
Illustrated Quote - Large (800 x 600 px)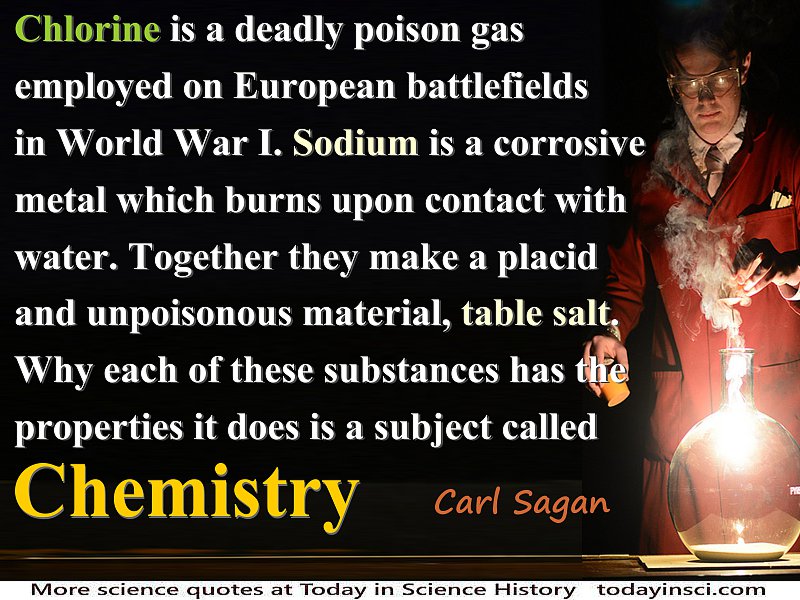 Wellington College. CC by-NC 2.0
(source)
The quote above appears as a footnote in a Carl Sagan essay, 'Can We Know the Universe?' It is one of a number of articles previously published in various magazines that were collected in a book titled Broca's Brain. He opens saying:
"Science is a way of thinking much more than it is a body of knowledge. Its goal is to find out how the world works, to seek what regularities there may be, to penetrate the connections of things. … Understanding is a kind of ecstasy."
Sagan then moves to wonder to what extent really understanding the universe is possible. So to simplify, he asks what can be known about a mere microgram speck of salt. Sagan compares the number of neurons in the brain with the number of atoms in the tiny grain of salt. The essay compares that with the bits of information for the information-carrying capacity of the brain. He proposes that
"To understand such a universe we would need a brain at least as massive as the universe."
The essay then roams through mention of the Special Theory of Relativity, the ultimate limit of the speed of light, restrictions on the rotational positions of molecules and infrared spectra.
As for chemistry, the quote above is all he wrote, as a parenthetical thought, expressed only as a footnote.

Quoted text from Carl Sagan,
Broca's Brain
(1979), 13-18.
(source)