(source)

Charles Thurber

(2 Jan 1803 - 7 Nov 1886)




Thurber's Patent.
from The Marvels of Modern Mechanism (1901)
The first practical typewriter was invented by Charles Thurber of Worcester, Massachussetts, and patented in 1843. It was slow and crude but had all the essential characteristics of the modern machine. He was the first to place the paper on a roller and give it longitudinal motion with provision for accurate letter and word spacing. A horizontal wheel carried on its outer edge rods to the lower end of which were affixed type and to the upper end a finger key. The wheel was turned to bring the type into place and in turning inked the type by drawing the type-face over inked rollers. When the finger key was pressed it forced the type on the lower end of the rod against the paper on the cylinder or platen and printed. Thurber's machine was never manufactured and a museum in Worcester contains the only model in existence.
Text from Jerome Bruce Crabtree,
The Marvels of Modern Mechanism and Their Relation to Social Betterment
(1901), 612.
(source)
---
Excerpt from: THE TYPEWRITER; ITS GROWTH AND USES.
article in The Chautauquan (1888)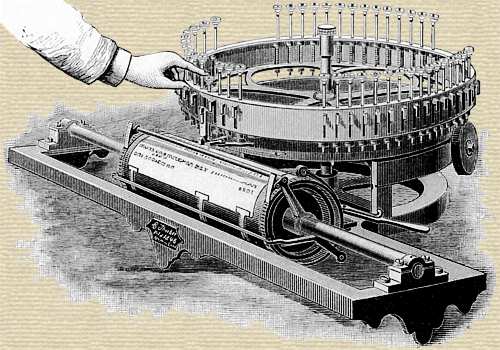 Charles Thurber's Printing Machine (patented 1843), an early, impractical typewriter.
(source)
Our American records show that in 1843, Charles Thurber, of Worcester, Mass., took out a patent for a writing machine, followed by an improvement two years later. The Thurber machine wrote, but so slowly that it remained a curiosity and nothing more. It is preserved in the Boston office of Messrs. Wyckoff, Seamans & Benedict. The above cut shows its operation. The keys are small steel rods, four inches long, with common types inserted in the lower end, and bearing buttons on the top with the corresponding letters marked on them. The keys are placed in a vertical position around the rim of a horizontal brass wheel sixteen inches across, which turns about a central post, and each key-rod is surrounded by a spiral spring, which raises it after it has been pressed down upon the paper. The machine presents an extraordinary contrast with the compact and perfect Remington which stands beside it. Thurber died recently in Brooklyn.*
[* The Dictionary of American Biography (1936) gives a different place of death: "From the time of his retirement until his death, he lived in Norwich CT, Brooklyn NY, and Germantown, PA. He died in Nashua NH." —Webmaster]
Text and image from P.G. Hubert, Jr., 'The Typewriter; Its Growth and Uses',
The Chautauquan
(Jun 1888),
8
, No. 9, following 580.
(source)