(source)

Thomas Edison

(11 Feb 1847 - 18 Oct 1931)




Thomas Edison Quote - Tinfoil Phonograph
"Mary Had a Little Lamb"
Illustrated Quote - Medium (500 x 350 px)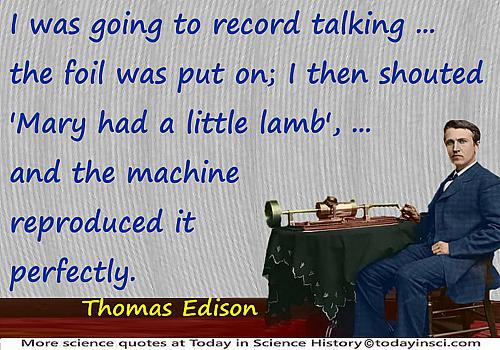 "I was going to record talking, and then have the machine talk back. ... the foil was put on; I then shouted 'Mary had a little lamb', ... I adjusted the reproducer, and the machine reproduced it perfectly."
— Thomas Edison
Thomas Edison and tinfoil phonograph

(probably 1878)

(source)

Edison Valued His First Tinfoil Phonograph at $18
The condensed quote above comes from a longer description of his tin foil phonograph that Thomas Edison gave in his own account:
"I designed a little machine using a cylinder provided with grooves around the surface. Over this was to be placed tinfoil, which easily received and recorded the movements of the diaphragm. A sketch was made, and the piece-work price, $18, was marked on the sketch. I was in the habit of marking the price I would pay on each sketch. If the workman lost, I would pay his regular wages; if he made more than the wages, he kept it.
The workman who got the sketch was John Kruesi. I didn't have much faith that it would work, expecting that I might possibly hear a word or so that would give hope of a future for the idea. Kruesi, when he had nearly finished it, asked what it was for. I told him I was going to record talking, and then have the machine talk back. He thought it absurd. However, it was finished, the foil was put on; I then shouted 'Mary had a little lamb,' etc. I adjusted the reproducer, and the machine reproduced it perfectly. I was never so taken aback in my life. Everybody was astonished. I was always afraid of things that worked the first time. Long experience proved that there were great drawbacks found generally before they could be got commercial; but here was something there was no doubt of."1
It is said that Carman, the foreman of the machine shop, had gone the length of wagering Edison a box of cigars that the device would not work. All the world knows that he lost.1
Edison had given his first plans to Kruesi in Dec 1877. In the posed photo, shown here, Edison was sitting with an improved machine. Note that in this photo, probably taken in 1878, Edison would have be about 30 years old. We are more familiar from the documentary movies seeing him as a much older man, but this photo instead shows him in his prime years.
This, his first major invention brought Edison international attention. Then, in 1879, just two years after drawing his phonograph plans, Edison was demonstrating his successful light bulb design.
Phonongraph shown with illustrated quote is a later model, photo taken probably 1878. [1] Text of quote and cigars comment from Frank Lewis Dyer and Thomas Commerford Martin,
Edison, his life and inventions
(1910), Vol. 1, 207-209.
(source)