(source)

G. H. Hardy

(7 Feb 1877 - 1 Dec 1947)




Godfrey Harold Hardy - Languages die and mathematical ideas do not
Illustrated Quote - Large (800 x 600 px)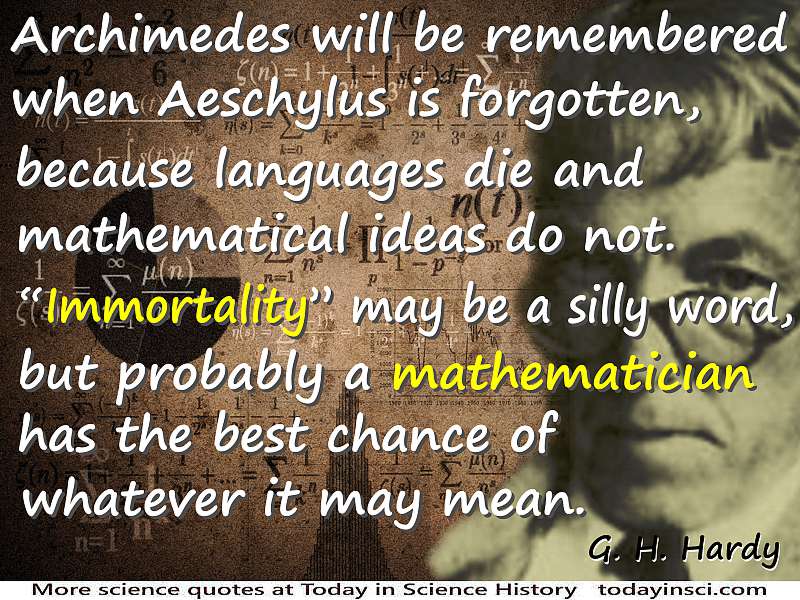 background by Tom_Brown 6117, CC by 2.0
(source)
The quote above comes from the book A Mathematician's Apology, written in 1940 by G.H. Hardy for the layman, which is among the best at giving first-person insights into the thoughts of a professional mathematician. He gives philosophical musings, among which anyone reading the book will find a number that resonate as true in their own lives. Hardy provides a poetic quality to appreciating the beauty and engaging nature of mathematics. His enthusiasm for his subject is obvious:
"If intellectual curiosity, professional pride, and ambition are the dominant incentives to research, then assuredly no one has a fairer chance of gratifying them than a mathematician. His subject is the most curious of all—there is none in which truth plays such odd pranks. It has the most elaborate and the most fascinating technique, and gives unrivalled openings for the display of sheer professional skill. Finally, as history proves abundantly, mathematical achievement, whatever its intrinsic worth, is the most enduring of all. …
The Greeks were the first mathematicians who are still 'real' to us to-day.
Oriental mathematics may be an interesting curiosity, but Greek mathematics is the real thing. The Greeks first spoke a language which modern mathematicians can understand; as Littlewood said to me once, they are not clever schoolboys or 'scholarship candidates,' but 'Fellows of another college '. So Greek mathematics is 'permanent,' more permanent even than Greek literature. Archimedes will be remembered when Aeschylus is forgotten, because languages die and mathematical ideas do not. "Immortality" may be a silly word, but probably a mathematician has the best chance of whatever it may mean.
Nor need he fear very seriously that the future will be unjust to him. Immortality is often ridiculous or cruel: few of us would have chosen to be Og or Ananias or Gallio. Even in mathematics, history sometimes plays strange tricks; Rolle figures in the text-books of elementary calculus as if he had been a mathematician like Newton; Farey is immortal because he failed to understand a theorem which Haros had proved perfectly fourteen years before; the names of five worthy Norwegians still stand in Abel's Life, just for one act of conscientious imbecility, dutifully performed at the expense of their country's greatest man. But on the whole the history of science is fair, and this is particularly true in mathematics.
No other subject has such clear-cut or unanimously accepted standards, and the men who are remembered are almost always the men who merit it.
Mathematical fame, if you have the cash to pay for it, is one of the soundest and steadiest of investments."
Context by Webmaster. Quoted text from G. H. Hardy,
A Mathematician's Apology
(1940, 2012), 80-82.
(source)