(source)

G. H. Hardy

(7 Feb 1877 - 1 Dec 1947)




Godfrey Harold Hardy - Young men should prove theorems, old men should write books.
Illustrated Quote - Large (800 x 600 px)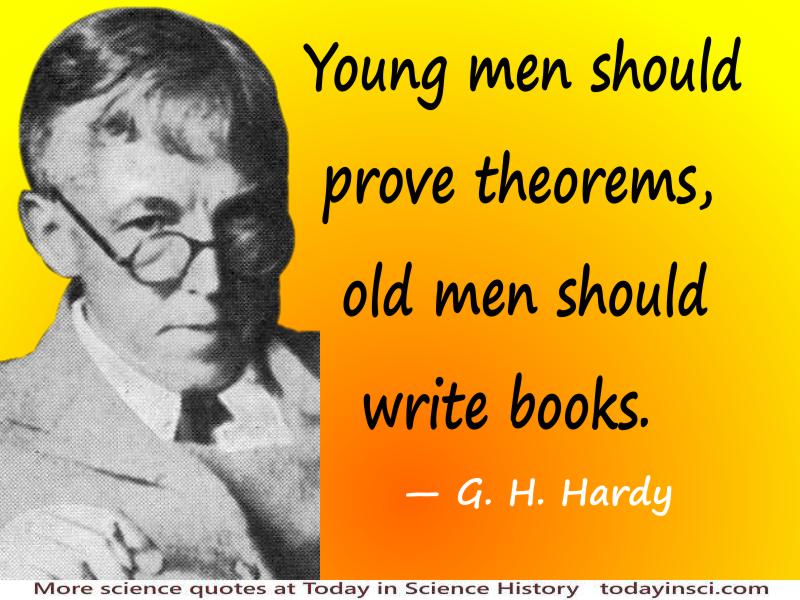 In his book, A Mathematician's Apology,1 G.H. Hardy clearly expressed his belief that mathematics is best served by younger minds:
"I had better say something here about this question of age, since it is particularly important for mathematicians. No mathematician should ever allow himself to forget that mathematics, more than any other art or science, is a young man's game. To take a simple illustration at a comparatively humble level, the average age of election to the Royal Society is lowest in mathematics.
We can naturally find much more striking illustrations. We may consider, for example, the career of a man who was certainly one of the world's three greatest mathematicians. Newton gave up mathematics at fifty, and had lost his enthusiasm long before; he had recognized no doubt by the time he was forty that his greatest creative days were over. His greatest idea of all, fluxions and the law of gravitation, came to him about 1666 , when he was twenty-four—'in those days I was in the prime of my age for invention, and minded mathematics and philosophy more than at any time since'. He made big discoveries until he was nearly forty (the 'elliptic orbit' at thirty-seven), but after that he did little but polish and perfect.
Galois died at twenty-one, Abel at twenty-seven, Ramanujan at thirty-three, Riemann at forty. There have been men who have done great work a good deal later; Gauss's great memoir on differential geometry was published when he was fifty (though he had had the fundamental ideas ten years before). I do not know an instance of a major mathematical advance initiated by a man past fifty. If a man of mature age loses interest in and abandons mathematics, the loss is not likely to be very serious either for mathematics or for himself."
The source for the opening quote is the recollection given by Freeman Dyson in a lecture at the Ramanujan Centenary Conference in 1987. In that lecture, Dyson tells an interesting story of his own about how he came to hear Hardy's statement:
"My love-affair [with mathematics] began 48 years ago when I was in my second year of high-school in England. I won a school mathematics prize and according to the rules I was allowed to choose any book I wanted for the prize. I chose Hardy and Wright, 'An Introduction to the Theory of Numbers,' the first edition which had been published that same year [1938]. It was, and still is, a splendid book for a teenager wanting to get a taste of real mathematics on an elementary level. It is a masterpiece of clear thinking and lively exposition. A few years later I got to know Hardy in Cambridge and asked him why he spent so much time and effort writing that marvelous book when he might have been doing serious mathematics. He answered, 'Young men should prove theorems, old men should write books.' He was then hard at work on his last book, the Cambridge Tract on Fourier Series which he wrote with Rogosinski. Now I am just about as old as he was then and I am following his good example [by also writing books]." 2
Three years later, Dyson gave a similar account during an interview3 with Donald J. Albers. He again described the Hardy and Wright's Introduction that he had chosen as a prize as "a marvelous book." He continued, "It's the finest book I know on number theory. It's not a textbook, but it's an enormously readable account of the subject, written with such style that it's probably the best introduction to mathematics that's ever been written. …Hardy and Wright gives you a feeling of the joy of the subject which I've never seen anywhere else."
The interviewer then asked "Do you recall how long it took you to go through Hardy and Wright?" Dyson's answer is all the more remarkable when you keep in mind that his age was fourteen when he was reading it and "it took a long time, because I tried to prove all the theorems."
1
G.H. Hardy,
A Mathematician's Apology
(1940, 1967), 70-72.
2
'A Walk Through Ramanujan's Garden', Lecture by Dyson at Ramanujan Centenary Conference (2 Jun 1987). Collected in
Selected Papers of Freeman Dyson with Commentary
(1996), 189.
3
Interview (Jun 1990) with Donald J. Albers, in 'Mathematician, Physicist, and Writer.'
The College Mathematics Journal
(Jan 1994),
25
, No. 1, 4.
Page written by Webmaster, with quotes from the footnoted references.