(source)

Robert Ernest House

(3 Aug 1875 - 15 Jul 1930)




'Truth Serum' Involves Five in Axe Murders, Clearing Up 44 Crimes in Birmingham, Ala.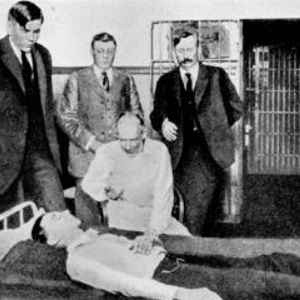 Dr Robert House, administering his "truth serum" drug to an arrested man in a Texas jail.
(source)
The headline above appeared with a dateline of "BIRMINGHAM, Ala., Jan. 7," on the front page of the Tuesday, January 8, 1924, issue of the New York Times. The article concerned the preparations for the early trial of "five negroes" held responsible for a wave of axe murders in Birmingham, that were committed during the past three years. The men were reported as having confessed to causing eight of those deadly assaults, and had been indicted on charges of murder.
The article noted that it had been announced that the confessions were made "while under the influence of a 'truth serum'" but these were also corroborated by "the confessions after they came from under its influence." The specific drug used as the truth serum was not identified in the report.
Apparently, the motive was robbery, and the choice of who would be the murderer from their group was made by drawing straws.
The men being held under arrest were identified by Solictor James G. Davis of the Jefferson County Circuit Court, as the "syndicate" he believed had carried out all the forty-four attacks that resulted in twenty-four deaths in the "axe murder" carnage.
Three more members of the gang, including the alleged leader, were still uncaptured, but "special officers" were in pursuit of them in Central Alabama.

Image added (not in original article) from source shown above, to illustrate Dr. Robert House, who suggested the use of drug scopolamine in criminology. Text written by Webmaster, based on New York Times article (8 Jan 1924).