(source)

Arthur Edwin Kennelly

(17 Dec 1861 - 18 Jun 1939)




Arthur Edwin Kennelly
American electrical engineer Arthur Edwin Kennelly was a prominent contributor to the science of electrical engineering. He applied advanced analytical mathematics to electronic circuits, particularly the definitive application of complex-number theory to alternating-current (ac) circuits. Upon his co-discovery of the radio reflecting properties of the ionosphere in the upper atmosphere, the stratum was called the Kennelly-Heaviside layer.
Raised in England, he left school at age 13 and taught himself physics while working as a telegrapher. Kennelly started his working career as an office boy for an engineering society in London. He was also an electrician and worked on a cable-engineering ship. He emigrated to the U.S.A.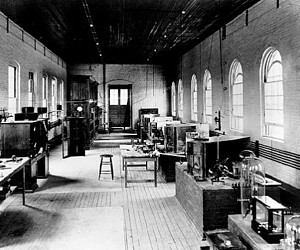 Galvanometer Room, Bldg. 1, at Edison's West Orange Site; West Orange, NJ.
(source)
When Thomas Edison opened his West Orange laboratory in early Dec 1887, Arthur Kennelly joined the laboratory staff as Chief Assistant to Edison that same month, to direct electrical research in the Galvanometer Room. At these facilities, Edison kept a well-stocked laboratory and a machine shop under one roof and he also had a core group of half a dozen or more assistants, chosen because of their expertise in fields in which Edison felt weaker (mathematics was one). Kennelly was one of Edison's closest associates for A.C. and electro-magnetic studies.
The following year, Thomas Edison was anxious to characterize the A.C. generating system as too dangerous, since it was being highly competitively promoted by Westinghouse. Edison's wanted his own D.C. electricity company to be regarded by the public as safer to use, and be the force majeur in the growing market. So when the New York State Legislature, looking for a more humane, or more efficient, way to execute criminals, they asked Edison's opinion about electricity. He replied that electricity would do the job "in the shortest space of time, and inflict the least amount of suffering upon its victim." And as apparatus, he recommended "alternating machines, manufactured principally in this country by Geo. Westinghouse." Edison opined that "the passage of current from these machines through the human body, even by the slightest contacts, produces instantaneous death."
To further research this, during July–Dec 1888, Edison assigned Kennelly to supervise Harold P. Brown who had been hired to conduct scientific A.C. electrocution experiments upon dogs and other animals. They tested various electrocution devices on house pets brought in by neighborhood boys for a quarter apiece.
For one experiment they coerced a mongrel stand on a metal sheet to drink from a water pan. But they had connected pan of water and the metal sheet into an electrocution circuit. Accordingly, these experiments were usually conducted under cover of night to avoid unwanted attention from the SPCA.
Fortunately, Edison had a greater variety of projects, In February 1893, Kennelly assisted Edison to prepare design plans and cost estimates for the General Electric Company's bid on the Niagara Falls power project.
He resigned 1 Mar 1894, but subsequently spoke glowingly of his experience there: "The privilege which I had being with this great man for six years was the greatest inspiration of my life." Kennelly then joined with Edwin J. Houston to form the consulting firm of Houston and Kennelly in Philadelphia. Until 1901, he worked as a consulting engineer with the Edison General Electric Company and the General Electric Company of New York.
He continued studying electronic circuits. Whereas mathematical analysis of direct-current circuits simple, analysis of A.C. circuits was complicated. Upon his publication of his paper "Impedance" he provided other electrical engineers the ability to begin applying complex-number techniques to A.C. theory.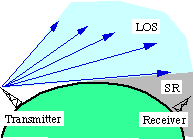 Figure 1. Areas in the light blue region are within the radio "Line of Sight" (LOS). The receiving antenna is in the shadow region (SR) and cannot receive a signal directly from the transmitter.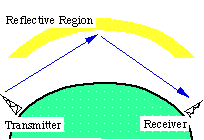 Figure 2. A conductive region at high altitude would "reflect" radio signals that reached it and return them to Earth.
When Kennelly considered the results of Guglielmo Marconi's reception, in Newfoundland in 1901, of radio signals transmitted from England he found they were received far better than was predicted by existing radio-wave theory. Up to this time, little was known about the physical properties of the Earth's upper atmosphere.
The following year Kennelly deduced that the reason Marconi's radio waves were able to transmit across the distance of the Atlantic Ocean was that the signals were being reflected back to Earth from an ionized layer in the upper atmosphere acting like a radio mirror or roof. He showed that this would be achieved by an electrically conducting stratum in the rarefied atmosphere at a high of about fifty miles and with conductivity several times as great as that of sea water. It would permit a dramatic extension of the "line-of-sight" limitation shown in Figure 1 to permit radio communication as shown in Figure 2.
British physicist and electrician Oliver Heaviside (1850-1925) independently and almost simultaneously published his theory of probable existence of a high atmospheric layer of ionized gas, that enables radio waves to follow the curvature of the earth. The layer thus became known as the Kennelly-Heaviside layer (now called the E region of the ionosphere).
Kennelly was appointed Professor of Electrical Engineering at Harvard (1902-30) and occasionally (1913-24) taught as Professor of Electrical Engineering at MIT (Massachusetts Institute of Technology).
In 1916 became President of the IRE (Institute of Radio Engineers) and in 1933 Kennelly received the Edison Gold Medal of the AIEE (American Institute of Electrical Engineers).
"Through radio I look forward to a United States of the World. Radio is standardizing the peoples of the earth, English will become the universal language because it is predominantly the language of the ether. The most important aspect of radio is its sociological influence." — Kennelly (1926)
The original source of Figures 1 & 2 is now a dead link, but is also available at a mirror of the original article
(source)
.