(source)

Florence Nightingale

(12 May 1820 - 13 Aug 1910)




Florence Nightingale
Quotes on Nursing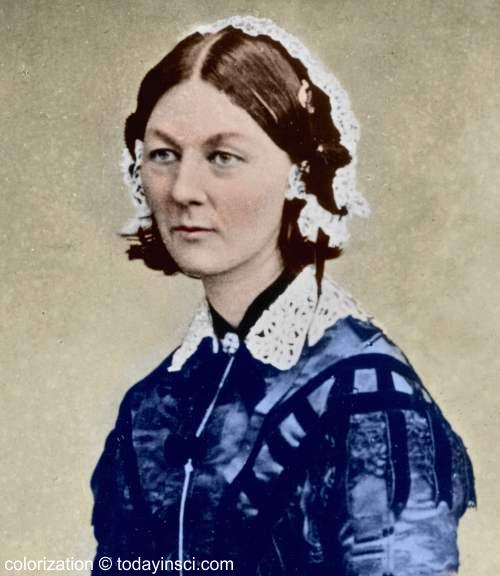 All disease, at some period or other of its course, is more or less a reparative process, not necessarily accompanied with suffering: an effort of nature to remedy a process of poisoning or of decay, which has taken place weeks, months, sometimes years beforehand, unnoticed.
— Florence Nightingale
The symptoms or the sufferings generally considered to be inevitable and incident to the disease are very often not symptoms of the disease at all, but of something quite different—of the want of fresh air, or of light, or of warmth, or of quiet, or of cleanliness, or of punctuality and care in the administration of diet, of each or of all of these.
— Florence Nightingale
If a patient is cold, if a patient is feverish, if a patient is faint, if he is sick after taking food, if he has a bed-sore, it is generally the fault not of the disease, but of the nursing.
— Florence Nightingale
The word nursing … has been limited to signify little more than the administration of medicines and the application of poultices. It ought to signify the proper use of fresh air, light, warmth, cleanliness, quiet, and the proper selection and administration of diet.
— Florence Nightingale
Macaulay somewhere says, that it is extraordinary that, whereas the laws of the motions of the heavenly bodies, far removed as they are from us, are perfectly well understood, the laws of the human mind, which are under our observation all day and every day, are no better understood than they were two thousand years ago.
— Florence Nightingale
Florence Nightingale
Quotes on Ventilation
A nurse is to maintain the air within the room as fresh as the air without, without lowering the temperature.
— Florence Nightingale
A celebrated medical lecturer began one day "Fumigations, gentlemen, are of essential importance. They make such an abominable smell that they compel you to open the window." I wish all the disinfecting fluids invented made such an "abominable smell" that they forced you to admit fresh air. That would be a useful invention.
— Florence Nightingale