(source)

John Burroughs

(3 Apr 1837 - 29 Mar 1921)




John Burroughs
"Stone brigades"
Illustrated Quote - Medium (500 x 250 px)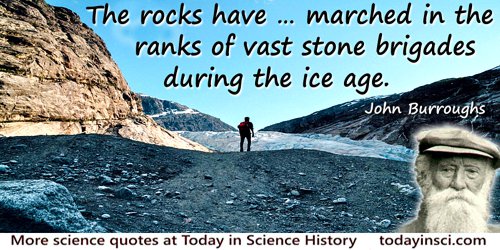 This quote comes from short, but delightful essay by John Burroughs, titled 'The Friendly Rocks'. (Anything written by natural history story-teller John Burroughs is always delightful.) For the reader whose interest is captivated by the following excerpts, a link to the full essay is given below.
"Rocks have literally come down to us from a foreworld. The youth of the earth is in the soil and in the trees and verdure that springs from it; its age is in the rocks; in the great stone book of the geologic strata its history is written. …"
"A landscape without rocks lacks something. Without the outcropping ledge, the faces of the hills lack eyebrows. …"
"The rocks have a history; gray and weather-worn, they are veterans of many battles; they have most of them marched in the ranks of vast stone brigades during the ice age;
they have been torn from the hills, recruited from the mountain-tops, and marshaled on the plains and in the valleys; and now the elemental war is over, there they lie waging a gentle but incessant warfare with time, and slowly, oh, so slowly, yielding to its attacks! I say they lie there, but some of them are still in motion, creeping down the slopes, or out from the clay-banks, nudged and urged along by the frosts and the rains, and the sun. It is hard even for the rocks to keep still in this world of motion, but it takes the hour-hand of many years to mark their progress. …"

In 'The Friendly Rocks',
Under the Apple-Trees
(1916), 40-42.
(source)