(source)

Theodore Roosevelt

(27 Oct 1858 - 6 Jan 1919)



Theodore Roosevelt, Naturalist
PERSONAL AFFILIATION WITH THE AMERICAN MUSEUM—SERIOUS AND SINCERE PURPOSE AS EXPLORER AND NATURALIST
By HENRY FAIRFIELD OSBORN
from Natural History (1919)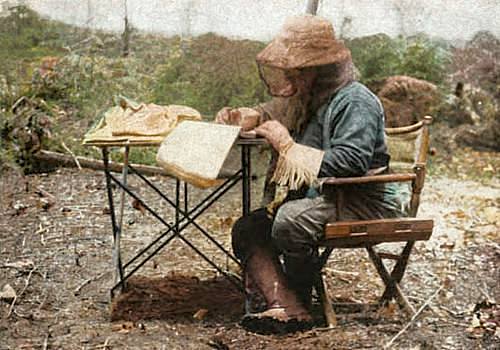 Roosevelt in South America on the expedition which explored and mapped the "River of Doubt," now the Rio Téodoro.—Roosevelt's books covering his explorations and his observations on animal life were written in the field, which in large measure accounts for their accuracy and vividness. (He is here shown protected from fever-carrying insects by gloves and a mosquito net helmet)
Courtesy of Charles Scribner's Sons
(Terms of Use)
[p.9] ROOSEVELT spent the first years of his life and the last years as a naturalist, and it chanced that he was in close touch with the American Museum at both ends of his wonderful career. In the range of his life as a naturalist, as an observer, traveler, explorer, writer, and last but not least, a biological philosopher, as in the range of his work over the vast fields of history, of government, and of international relations, his service was stupendous; and now that we are able to look at his life as a whole, we realize that he was not one man, but many great men, many personalities, combined and harmonized into one,—all impelled by indomitable will and determination, all inspired by idealism, all warmed and humanized by the most loving and sympathetic temperament.
This manifold ability and multiple nature came out in the course of his plans for a great expedition to South America, projected in the spring of 1913 and executed between October, 1913, and June, 1914. He had selected an unknown and particularly dangerous region, where the native tribes had never been thoroughly subdued by the Brazilian Government. He marked out this region as his first choice for a South American expedition, but I sent word to him through Dr. Frank M. Chapman, who was representing us in these plans, that I would never consent to his going to this particular region under the American Museum flag; that I would not even assume part of the responsibility for what might happen in case he did not return alive. With a smile he sent back a characteristic word: "I have already lived and enjoyed as much of life as any nine other men I know; I have had my full share, and if it is necessary for me to leave my remains in South America, I am quite ready to do so." Although more prudent plans prevailed, and we finally determined upon a route which resulted in the discovery of the Rio Roosevelt, yet the exposure, the excessively moist climate, and the dearth of food, clothing, and supplies, very nearly cost Theodore Roosevelt his life.
It was Roosevelt's warm sentiment for his native city and the survival of the memories of his boyhood education as an ornithologist, so delightfully described by himself in the pages of the Journal,1 which brought him back into relation with the American Museum, after he had, by means of his two years in Africa, completed his magnificent service to our National Museum at Washington immediately on leaving the presidency.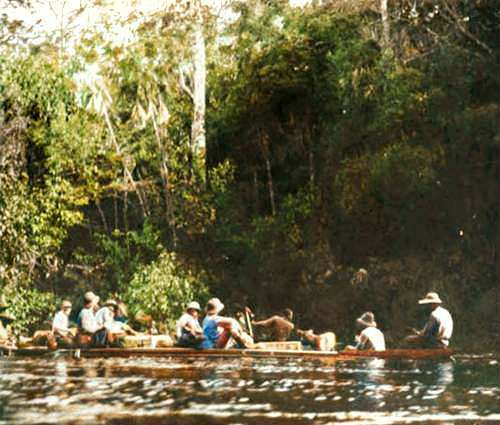 The canoes of Roosevelt and Colonel Rondon on the "River of Doubt" at the junction of a large tributary, the Bandeira Courtesy of Charles Scribner's Sons
In planning the South American journey, as in planning that to Africa, he prepared with the utmost intelligence and thoroughness for what he knew would be a hazardous trip, even after all precautions had been taken. With the trained assistance of his son Kermit Roosevelt, with the South American experience and stalwart courage of Mr. George K. Cherrie, and with the devoted and most intelligent companionship of Colonel Candido Mariano da Silva Rondon and Mr. Leo E. Miller, this expedition developed into the most important that has ever gone from North into South America. As a result of this expedition through [p.10] Paraguay and the wilderness of Brazil, more than 450 mammal and 1375 bird specimens were added to the American Museum's collections, in addition to the geographic results which aroused such a chorus of discussion and diversity of opinion. Roosevelt was so impressed with the importance of continuing this exploration, that on his return he personally contributed $2000 from his literary earnings, to send his companion naturalists back to the field. The Museum accordingly sent Messrs. Leo E. Miller and Howarth Boyle to Colombia and Bolivia, and Mr. Cherrie to the marshes of Paraguay, to continue the work of the first Roosevelt Expedition. An American statesman, who should have known better, has recently characterized Roosevelt as "one who knew a little about more things than anyone else in this country." This gives an entirely false impression of Roosevelt's mind. His mind was quite of a contrary order; for what Roosevelt did know, he knew thoroughly; he went to the very bottom of things, if possible; and no one was more conscientious or modest than he where his knowledge was limited or merely that of the intelligent layman. His thorough research in preparing for the African and South American expeditions was not that of the amateur or of the sportsman, but of the trained naturalist who desires to learn as much as possible from previous students and explorers. During his preparation for the African expedition, I sent him from the rich stores of the American Museum and Osborn libraries all the books relating to the mammal life of Africa. These books went in installments, five or six a week; as each installment was returned, another lot was sent. Thus in the course of a few weeks he had read all that had been written about the great mammals of Africa from Sclater to Selous. He knew not only the genera and species, but the localities where particular species and subspecies were to be found. I remember at a conference with African great game hunters at Oyster Bay, where were assembled at luncheon all the Americans that he could muster who had actually explored in Africa, a question arose regarding the locality of a particular subspecies, Grévy's zebra (Equus grevyi foai). Roosevelt went to the map, pointed out directly the particular and only spot where this subspecies could be found, and said that he did not think the expedition could possibly get down in that direction. This was but one instance among hundreds, not only of his marvelous memory but also of his thoroughness of preparation.
We shall have a memorial of Theodore Roosevelt, the Naturalist, in the American Museum of Natural History, he honored the institution by his presence; he loved it and gave his inspiring touch to many branches of its activity during the closing years of his life. In the intervals of politics, of pressing duties of every kind, he would repair here for keen and concentrated discussions on animal coloration, or geographic distribution, or the history of human races, or the evolution of some group of animals, or, perchance, the furtherance of some expedition. What the Roosevelt memorial shall be it is premature to say, except that it will certainly be a memorial to the beautiful and courageous aspect of his manifold character and life as a naturalist. This memorial will be such as to remind the boys and girls of all future generations of Americans of the spirit of love, of zeal, and of intelligence with which they should approach nature in any of its wonderful aspects.
1
"My Life as a Naturalist."
American Museum Journal
, May, 1918.
Credit to palette.fm for colorization help on article images. Text and original b/w images from magazine
Natural History
(Jan 1919),
19
, No. 1, 8-10, as reprinted in book form
Natural History: The Journal of the American Museum: Volume 19
(1919), 8-10. Images on p.8.
(source)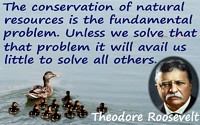 background by OZinOH (CC by SA 2.0)
(source)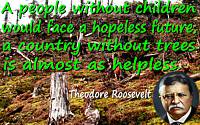 background by Pilgrim on Wheels (CC by SA 2.0)
(source)