(source)

Thomas Blanchard

(24 Jun 1788 - 16 Apr 1864)




Thomas Blanchard Tack Making Machine
from Leading American Inventors (1912)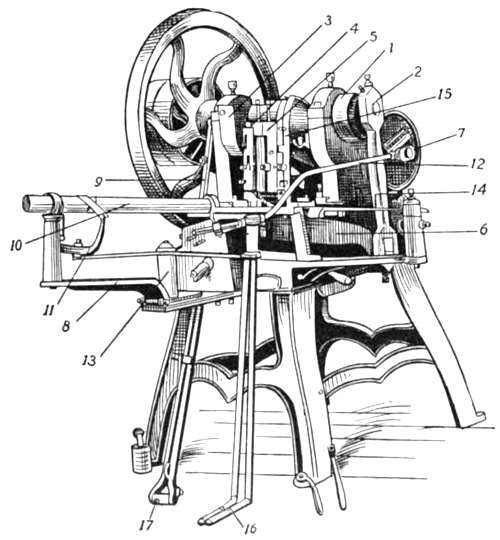 1. Spindle. 2, Connecting-rod to operate heading lever. 3, Gripping lever. 4, Logy jaw for cutting plates. 5, Carrier jaw, carrying tack to gripping dies. 6, Heading lever. 7, Feed gear. 8, Boom. 9, Clearer. 10, Barrel. 11, Fiddle-bow. 12, Feed-rod. 13, Elbow or feed arm. 14, Spring to hold tack while carried to the die. 15, Haul-off lever. 16, Nippers for holding plate. 17, Rest for nipper rods.
In operating this machine the plate, of a width and thickness suited to making the required tacks, is held in the nippers and fed through the barrel (10) by means of a weight. The barrel is set at such an angle that the two jaws (4 and 0, actuated by cams on the spindle, cut off a wedge-shaped blank with the thick part of the wedge toward the header (6). The bearer (14) is under that portion of the wedge which is to form the head, and after the two jaws have together cut off the blank, the logy jaw (4) comes to a stop, and the blank or wedge is carried down between the leader-tool and the bearer to the proper point to be taken by the gripper (3), which holds it to be headed by the header (6). As soon as the header recedes and the dies open, the tack is ejected by the clearer (q) operated by a cam on the hub of the balance wheel. The plate is turned over every half-revolution by the fiddle-bow operated by the elbow and feed-rod from the gear (7).
[Courtesy of Henry Perkins Foundry Co., Bridgewater, Mass.]
Text and image from George Iles,
Leading American Inventors
(1912), 111.
(source)