(source)

David Rittenhouse

(8 Apr 1732 - 26 Jun 1796)




Science Quotes by David Rittenhouse
(5 quotes)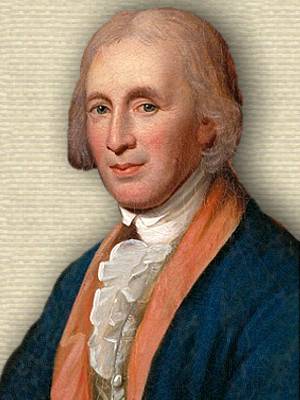 David Rittenhouse (1796)
artist: Charles Willson Peale
(source)
How agreeable … to dwell on the praises of Astronomy: to consider its happy effects as a science, on the human mind. … The direct tendency of this science is to dilate the heart with universal benevolence, and to enlarge its views.

— David Rittenhouse

I do not design a machine which will give the ignorant in astronomy a just view of the solar system, but would rather astonish the skilful and curious observer by a most accurate correspondence between the situations and motions of our little representatives of our heavenly bodies and the situations and motions of those bodies themselves. I would have my orrery really useful by making it capable of informing us truly of the astronomical phenomena for any particular point of time, which I do not find that any orrery yet made can do.

— David Rittenhouse

I have no health for a soldier, and as I have no expectation of serving my country in that way, I am spending my time in the old trifling manner, and am so taken with optics, that I do not know whether, if the enemy should invade this part of the country, as Archimedes was slain while making geometrical figures on the sand, so I should die making a telescope.

— David Rittenhouse

I shall now communicate to you some conjectures and experiments on magnetism…. I suppose then, that magnetical particles of matter are a necessary constituent part of … iron, though they are probably but a small proportion of the whole mass. These magnetical particles I suppose have each a north and a south pole, and that they retain their polarity, however the metal may be fused or otherwise wrought. In a piece of iron which shews no signs of magnetism these magnetical particles lie irregularly, with their poles pointing in all possible directions, they therefore mutually destroy each other's effects. By giving magnetism to a piece of iron we do nothing more than arrange these particles, and when this is done it depends on the temper and situation of the iron whether that arrangement shall continue, that is, whether the piece of metal shall remain for a long time magnetical or not.

— David Rittenhouse

We shall find sufficient reason to conclude, that the visible creation … is but an inconsiderable part of the whole. Many other and various orders of things unknown to, and inconceivable by us, may, and probably do exist, in the unlimited regions of space.

— David Rittenhouse

---
Quotes by others about David Rittenhouse (1)
"On doit etre etonné ([Abbé Raynal]says) que l'Amerique n'ait pas encore produit un bon poëte, un habile mathematicien, un homme de génie dans un seul art, ou une seule science." …"America has not yet produced one good poet." When we shall have existed as a people as long as the Greeks did before they produced a Homer, the Romans a Virgil, the French a Racine and Voltaire, the English a Shakespeare and Milton, should this reproach be still true, we will enquire from what unfriendly causes it has proceeded, that the other countries of Europe and quarters of the earth shall not have inscribed any name in the roll of poets. But neither has America produced "one able mathematician, one man of genius in a single art or a single science." … In physics we have produced a [Benjamin] Franklin, than whom no one of the present age has made more important discoveries, nor has enriched philosophy with more, or more ingenious solutions of the phaenomena, of nature. … [The quadrant invented by Godfrey, an American also, and with the aid of which the European nations traverse the globe, is called Hadley's quadrant.] … We have supposed Mr. [David] Rittenhouse second to no astronomer living: that in genius he must be the first, because he is self-taught. As an artist he has exhibited as great a proof of mechanical genius as the world has ever produced. … We therefore suppose, that this reproach is as unjust as it is unkind; and that, of the geniuses which adorn the present age, America contributes its full share. [Compared to the much larger populations of European countries.]

See also:
8 Apr - short biography, births, deaths and events on date of Rittenhouse's birth.
David Rittenhouse - An Account of Some Experiments on Magnetism (1781)
David Rittenhouse, by Brooke Hindle. - book suggestion.