Science Quotes by Alan Hale
(7 quotes)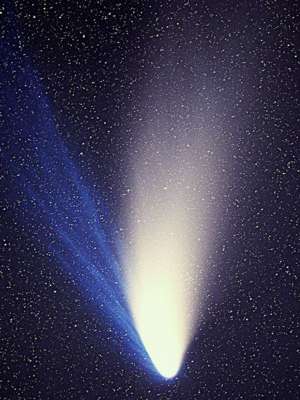 As soon as I looked, I saw a fuzzy object nearby. It was strange, because I'd looked at M70 a couple of weeks earlier and the object hadn't been there.

— Alan Hale

It's been kind of nerve-racking to sit through all those months wondering if the comet would fizzle.

— Alan Hale

Rampant scientific illiteracy in the general public is, in my opinion, one major cause of the current lack of opportunities for scientists. … A public that is ignorant of science, and of how science is done, is not going to support scientific research enthusiastically.

— Alan Hale

Scientifically, the comet was a bonanza, due both to its impressive performance and to the long lead-time provided by its early discovery. Much of the science concerning Hale-Bopp was tied into questions of our own origins. The comet helped establish connections between material present in interstellar clouds and material delivered by comets to the early Earth.

— Alan Hale

Sometimes I wonder about the world that will greet Hale-Bopp on its next return in the 44th century (according to latest calculations).

— Alan Hale

The Earth does not orbit the sun because of any gravitational pull that the sun exerts on Earth; rather, the sun, being a rather massive object, warps the fabric of space time around it, and the Earth, in attempting to move in a straight line, is instead placed into its near-circular orbit around the sun due to this warping.

— Alan Hale

Usually, only handfuls of dedicated amateur astronomers view such events. Billions of people saw Hale-Bopp. So, until a better comet comes along, it remains the great comet of our lives.

— Alan Hale

See also:
7 Mar - short biography, births, deaths and events on date of Hale's birth.
Everybody's Comet: A Layman's Guide to Hale-Bopp, by Alan Hale. - book suggestion.