Avocado Quotes (3 quotes)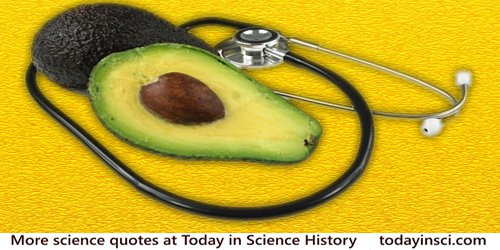 Most people … do not know that when the white man came Honolulu was a treeless, sandy plain, with a fringe of cocoanut trees along the shore. Honolulu, as it is to-day, is the creation of the foreigner. It is his handiwork. Walk into one of the numerous yards where plants and trees and vines are growing, as though on their native soil, and you will find that every one of them has been imported within a comparatively recent period. … Here is the rubber tree, the banyan, the baobab, the litchee, the avocado, the mango, and palms innumerable.

The avocado is a food without rival among the fruits, the veritable fruit of paradise.

This study was supported by NSF MBS75-14268 and inspired by paying 95 cents for a rotten avocado.