Today In Science History ®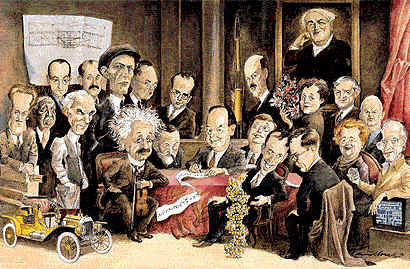 �
The people and events of today
Click image background or title to go to Today's page.
Click on an individual to go to that person's birth date.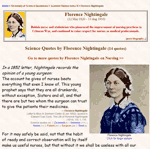 Albert Einstein
: I used to wonder how it comes about that the electron is negative. Negative-positive—these are perfectly symmetric in physics. There is no reason whatever to prefer one to the other. Then why is the electron negative? I thought about this for a long time and at last all I could think was "It won the fight!" ...
(more by Einstein)
Richard Feynman
: It is the facts that matter, not the proofs. Physics can progress without the proofs, but we can't go on without the facts ... if the facts are right, then the proofs are a matter of playing around with the algebra correctly. ...
(more by Feynman)
Marie Curie
•
Winston Churchill
•
Galileo Galilei
•
Sigmund Freud
•
Robert Bunsen
•
Thomas Edison
•
Louis Pasteur
•
Theodore Roosevelt
•
Abraham Lincoln
•
Ronald Reagan
•
Leonardo DaVinci
•
Karl Popper
•
Johann Goethe
•
Benjamin Franklin
•
Robert Oppenheimer
•
Charles Kettering
...
(more people)
Introduction:
The history of the search for perpetual motion does not afford a single instance of ascertained success; all that wears any appearance of probability remains secret, and like other secrets, can not be defended in any satisfactory way against the opinions of the skeptical, who have in their favor, in this instance, an appeal to learned authorities against the principle of all such machines, and the total want of operativeness in all known practical results. Published statements afford sorry examples of talents and ingenuity strangely misapplied. Some, but very few, are slightly redeemed from contempt by a glimpse of novelty. Of genius all are deficient, and the reproductions of known fallacies show a remarkable ignorance of first principles on one side and of the most ordinary sources of information on the other. ...
(more)
In the margin of most pages, there is a multiple-choice quiz. Each page has a question served randomly from the database. Although there are some easy questions, others are designed to be challenging — to make you think. If you pick the right answer, congratulations. Three times in a row you can be very proud. Some questions should leave you feeling you found out something you hadn't thought about very much before. Enjoy! ...
(quiz on this page)
Sign up for the email newsletter, and you will receive a daily dose of the science events and people for that day. Each newsletter may include a description and link to a feature article, some quotations from the scientists born or died on the day, and some quiz questions. Some days the scientist names or events are very familiar, and the questions are easier. Other days, the questions should raise your interest in knowing about the lesser known scientists. There is a link to instant answers online, or they also come in the next day's newsletter. ...
(sign up)
You can print out a calendar page for each month of the year which has a thumbnail picture related to a science anniversary on each day. Usually it will be on the person's birth day, some are on the date of death, and a few are for an event. ...
(more)