(source)

Nicolaas Bloembergen

(11 Mar 1920 - )




Science Quotes by Nicolaas Bloembergen
(3 quotes)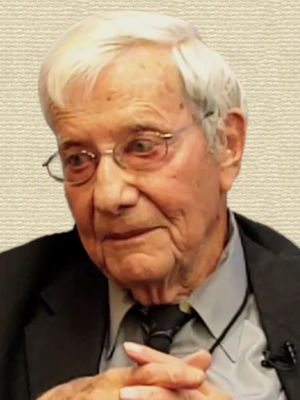 After the German occupation of Holland in May 1940, the [last] two dark years of the war I spent hiding indoors from the Nazis, eating tulip bulbs to fill the stomach and reading Kramers' book "Quantum Theorie des Elektrons und der Strahlung" by the light of a storm lamp.

— Nicolaas Bloembergen

As was the case for Nobel's own invention of dynamite, the uses that are made of increased knowledge can serve both beneficial and potentially harmful ends. Increased knowledge clearly implies increased responsibility. We reject the notion advocated in some quarters that man should stop eating from the tree of knowledge, as if that were humanly possible.

— Nicolaas Bloembergen

I am ever more intrigued by the correspondence between mathematics and physical facts. The adaptability of mathematics to the description of physical phenomena is uncanny.

— Nicolaas Bloembergen

See also:
11 Mar - short biography, births, deaths and events on date of Bloembergen's birth.
Encounters in Nonlinear Optics: Selected Papers of Nicolaas Bloembergen, by Nicolaas Bloembergen. - book suggestion.