Knee Quotes (3 quotes)
"Facts speak for themselves." Illusion! Facts are ventriloquists' dummies. Sitting on a wise man's knee they may be made to utter words of wisdom; elsewhere, they say nothing, or talk nonsense, or indulge in sheer diabolism.

It is in the name of Moses that Bellarmin thunderstrikes Galileo; and this great vulgarizer of the great seeker Copernicus, Galileo, the old man of truth, the magian of the heavens, was reduced to repeating on his knees word for word after the inquisitor this formula of shame: "Corde sincera et fide non ficta abjuro maledico et detestor supradictos errores et hereses." Falsehood put an ass's hood on science.
[With a sincere heart, and of faith unfeigned, I deny by oath, condemn and detest the aforesaid errors and heresies.]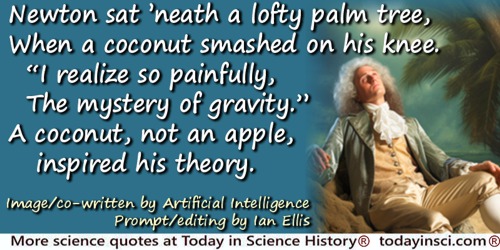 Newton lay 'neath a lofty palm tree,
When a coconut smashed on his knee.
"I realize so painfully,
The mystery of gravity."
A coconut, not an apple, inspired his theory.