Seeker Quotes (8 quotes)
It is in the name of Moses that Bellarmin thunderstrikes Galileo; and this great vulgarizer of the great seeker Copernicus, Galileo, the old man of truth, the magian of the heavens, was reduced to repeating on his knees word for word after the inquisitor this formula of shame: "Corde sincera et fide non ficta abjuro maledico et detestor supradictos errores et hereses." Falsehood put an ass's hood on science.
[With a sincere heart, and of faith unfeigned, I deny by oath, condemn and detest the aforesaid errors and heresies.]

It is not the possession of truth, but the success which attends the seeking after it, that enriches the seeker and brings happiness to him.

No facts are to me sacred; none are profane; I simply experiment, an endless seeker, with no past at my back.

So many people today–and even professional scientists–seem to me like someone who has seen thousands of trees but has never seen a forest . A knowledge of the historic and philosophical background gives that kind of independence from prejudices of his generation from which most scientists are suffering. This independence created by philosophical insight is–in my opinion–the mark of distinction between a mere artisan or specialist and a real seeker after truth.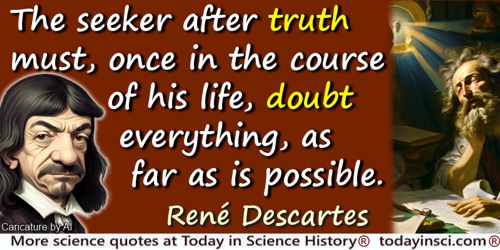 The seeker after truth must, once in the course of his life, doubt everything, as far as is possible.

Thou, youthful seeker after knowledge, investigate and experiment and never desist therefrom, for thou willst harvest, fruits a thousand-fold.

To say that, a scientific man puts forth a theory and, supports it and adheres to it, not because he thinks it true, but because he wishes it to be true, is the same thing as saying that he is not a seeker after truth at all, and is therefore a traitor to his profession.

We may fondly imagine that we are impartial seekers after truth, but with a few exceptions, to which I know that I do not belong, we are influenced—and sometimes strongly—by our personal bias; and we give our best thoughts to those ideas which we have to defend.