23.
Perpetual Motion
Between the upright frame, A, A, run the wheel, C, geared to the pinion, D, and on the same shaft the two double pinions, D, D, over which double pinions run a double chain, to which chain are fixed the buckets, F, F. The chain is made with joints on each side and bars running across, equal in .number to the cogs of the Q wheel C. Upon the same axle with the wheel, C, on the farther side of the inner stile, A, runs the wheel, G, whose diameter is double that of the wheel C.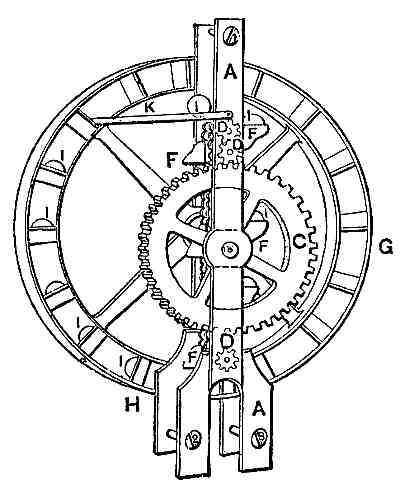 The wheel, G, is divided near the periphery into receptacles in number equal to the buckets on the chain, which receptacles are supplied with metal balls, I, I, from the buckets, F, F, by means of the gutter, K, which balls by their weight forcing round the wheel, G, and thereby lifting up the buckets, F, F, on one side as they go down on the other side, discharge, themselves again at the bucket, L, where they are taken up by the buckets, F, F, and discharged again at the gutter, K, and are so repeated in a constant succession as often as any receptacle is vacant in the wheel, G, at the gutter, K, for their reception, and by that means the perpetual revolution is obtained, the upper ball being at the same time discharged from one bucket when the lower ball is taken up by another.

(Subsection 921-922, from p.368)

From: Gardner D. Hiscox, M.E., Mechanical Appliances and Novelties of Construction (1927), Norman W. Henley Publ. Co.
---


---