23.
Perpetual Motion
A wheel, each of whose radii, A, B, contains a small channel through which there is a communication between the two bellows, C, D, one of which, C, is at the extremity of the radius, and the other, D, is nearer the center. The external side of these bellows is loaded with a weight.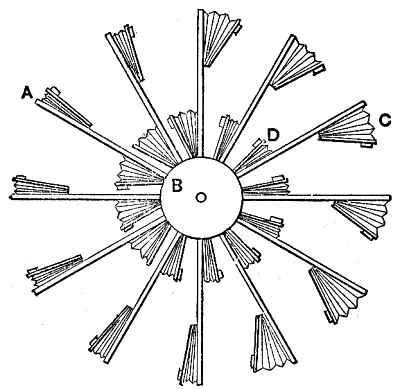 It will be seen that on one side (C, for example) the bellows farthest from the center must open, and those nearest must close. A liquid having been poured into each radius in sufficient quantity to fill its channel and one of the bellows, it is evident that on the side, C, such liquor will be at the extremity, that is to say, in the bellows that are open, while on the other side it will be in the bellows that are near the center. Consequently one-half the wheel will be heavier than the other, and so the wheel itself ought to have a perpetual motion.
(Subsection 954, from p.382)
From: Gardner D. Hiscox, M.E., Mechanical Appliances and Novelties of Construction (1927), Norman W. Henley Publ. Co.
---


---