23.
Perpetual Motion
A is the screw turning on its two pivots; B is a cistern to be filled above the level of the lower aperture of the screw with mercury; D is a reservoir, which, when the screw is turned round, receives the mercury which falls from the top.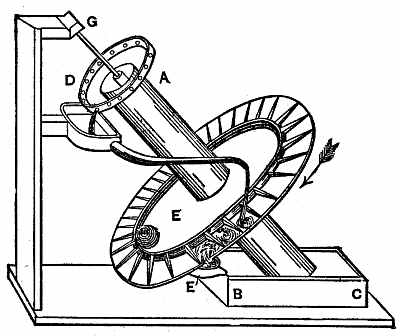 A pipe conveys the mercury from the reservoir on to the float-board, E, fixed at right angles to the center of the screw, and furnished at its circumference with ridges to intercept the mercury, the momentum and weight of which will cause the float-board and screw to revolve, until, by the proper inclination of the floats, the mercury falls into the receiver, E, from whence it again falls by its spout into the cistern, B, where the constant revolution of the screw takes it up again as before.
(Subsection 938, from p.375)
From: Gardner D. Hiscox, M.E., Mechanical Appliances and Novelties of Construction (1927), Norman W. Henley Publ. Co.
---


---