23.
Perpetual Motion
The invention consists in communicating a rotary motion to a fly wheel or drum by means of a set of falling weights tied together by chains, ropes, or straps. This set of weights, forming an endless chain, runs over two pulleys, suitably disposed A up and down near the fly wheel, which is provided with a set of cups fixed around its periphery, so as to receive the weights as they are delivered by the upper pulley, and to carry them down to the lower pulley, whence the same weights reascend in a straight direction to the upper pulley.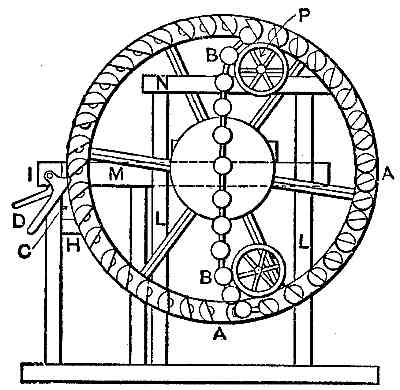 The weights of the endless chain running or falling down in the curvilinear direction of the periphery of the drum are more numerous than those that are raised up in a straight line, because the curvilinear line is longer than the straight one, and the difference of heaviness due to the number of weights is the force which, by its action at the end of the levers or radii of the drum, causes that drum to rotate.
(Subsection 926, from p.370)

From: Gardner D. Hiscox, M.E., Mechanical Appliances and Novelties of Construction (1927), Norman W. Henley Publ. Co.
---


---