23.
Perpetual Motion
a
is the axis or shaft on which the wheels are all mounted; each wheel consists of two parallel rims,
b
.
b
, each of which is connected by radial arms,
c
, to a boss,
d
, keyed on the axis,
a
; the working parts of each wheel are mounted between the rims and arms thereof, but the outer rim, boss, and radial arms are removed in the figure in order that the working may be fully shown.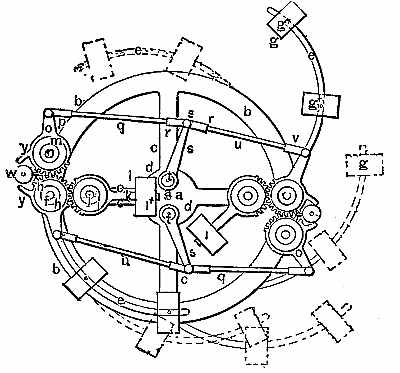 It must be understood that the pivots or axis,
j
,
j
,
n
,
t
, hereinafter referred to, on which certain parts are mounted, are supported by and extend between the two parallel rims, radial arms, and bosses of the wheel,
b
,
c
,
d
.
e
,
e
are curved arms working on axes or pivots,
j
, fixed in the rims; each arm carries weights,
g
,
g
, held in place by adjusting screws
g'
. Each arm,
e
, terminates at its innermost end in a wheel, h, toothed on a portion of its periphery, through which the weight,
v
, forces the weights,
g
, outward at the right-hand side of the wheel, causing a preponderance of weight on that side.
(Subsection 928, from p.371)

From: Gardner D. Hiscox, M.E., Mechanical Appliances and Novelties of Construction (1927), Norman W. Henley Publ. Co.
---


---