23.
Perpetual Motion
Capillary attraction type
Plan and elevation. A tank nearly filled with water and two wheels marked
a
,
a
and
b
,
b
are placed in the water in the tank. By capillary attraction the water rises between the two wheels marked
x
,
x
, to a height above the level of the water in proportion to the distance of the wheels from each other at
x
,
x
. As the water rises between the wheels marked
x
,
x
, above its level, the weight of water between the wheels will cause the wheels to continually revolve.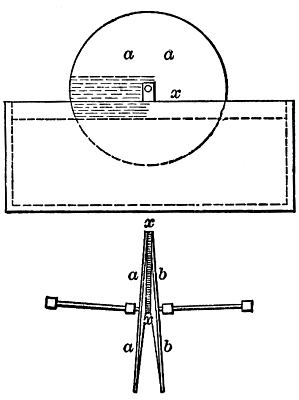 Elevation, showing the position of the water raised by capillary attraction.
(Subsection 961 and 962, from p.386)
From: Gardner D. Hiscox, M.E., Mechanical Appliances and Novelties of Construction (1927), Norman W. Henley Publ. Co.
---


---