23.
Perpetual Motion
The partitions set at an angle between the outer and inner rim of the wheel roll the balls toward the center on one side and toward the periphery on the other side of the disk. Attached to a screw pump. 1660. A type of scores of water-raising devices by perpetual motion in the seventeenth and eighteenth centuries. The Archimedean screw seems to have had a strong hold on the minds of perpetual-motion inventors.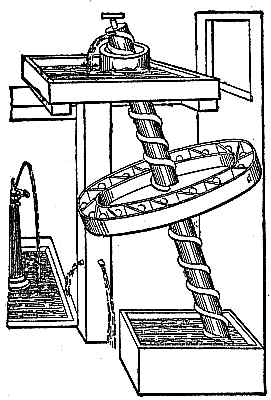 (Subsection 948, from p.379)
From: Gardner D. Hiscox, M.E., Mechanical Appliances and Novelties of Construction (1927), Norman W. Henley Publ. Co.
---


---